News
Morten Andersen Selected to Pro Football Hall of Fame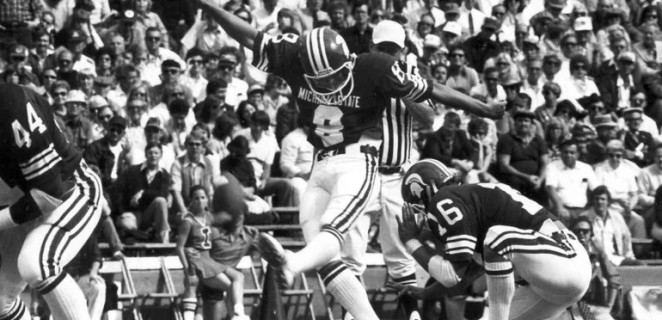 Feb. 5, 2017
EAST LANSING, Mich. — Former Michigan State All-American placekicker Morten Andersen has been selected to the Pro Football Hall of Fame, the NFL announced Saturday night at its annual "NFL Honors" show in Houston, site of Super Bowl LI.
Andersen is the NFL's all-time leader in points (2,544), field goals (565) and games played (382). In addition, his 40 field goals of 50 yards or longer were the most in NFL history at his retirement. Andersen was named to the NFL All-Decade Teams in both the 1980s and 1990s.
"It was very emotional, obviously," said Andersen at a press conference after the official announcement. "We shed a few tears. I'm tremendously humbled and excited to be in this class. It's pretty mind blowing right now – I'm kind of floating.
"I don't do a lot of guessing on stuff I can't control. I don't use a lot of energy on that because it's out of my hands. I was hopeful this year might have been a little more open, a better chance for me, and it turned out to be that way."
Click here for msuspartans.com feature on Morten Andersen by Steve Grinczel
Andersen was selected by the New Orleans Saints in the fourth round (No. 86 overall) of the 1982 National Football League Draft and became a seven-time Pro Bowl selection (1985, 1986, 1987, 1988, 1990, 1992 and 1995). He was named First-Team All-Pro three times (1986, 1987 and 1995). Andersen, who kicked for five teams during his 25-year career, retired from the game in 2008 as the NFL's all-time leading scorer with 2,544 points. He spent 13 seasons with the Saints (1982-94), eight with the Atlanta Falcons (1995-2000; 2006-07), two with the Kansas City Chiefs (2002-03) and one year each with the New York Giants (2001) and Minnesota Vikings (2004). Atlanta advanced to its first Super Bowl following the 1998 season as Andersen's 38-yard field goal beat the Vikings in the NFC title game.
A four-year letterman from 1978-81, Andersen closed out his career as Michigan State's all-time leader in field goals (45), extra points (126) and scoring (261 points). He connected on nine field goals from 50-plus yards during his career, including a Big Ten-record 63-yarder at Ohio State in 1981. He also converted 62-straight extra-point attempts during one stretch. In 1999, Andersen was named to the Walter Camp Football Foundation All-Century Team (1900-2000).

Andersen, a native of Struer, Denmark, came to Michigan State after attending Ben Davis High School in Indianapolis as an exchange student with the "Youth for Understanding" program.
As a freshman in 1978, Andersen led the team in scoring with 73 points, converting 52-of-54 extra points and 7-of-16 field goals, as the Spartans went 8-3 and won a share of the Big Ten Championship at 7-1. He led the Big Ten in kick scoring with 56 points in league games (44-of-45 extra points and 4-of-10 field goals).
During his sophomore year in 1979, Andersen finished second on the team in scoring with 58 points, trailing only running back Derek Hughes who scored 11 touchdowns for 66 points. The second-team All-Big Ten selection connected on all 25 extra-point and 11-of-18 field-goal attempts, including five from 50-plus yards. He made a career-best four field goals in the 1979 season opener against Illinois.
As a junior in 1980, he once again led the Spartans in scoring with 57 points, hitting 21-of-22 extra points and 12-of-18 field goals. Andersen, who earned second-team All-Big Ten honors for the second year in a row, made three field goals from 50-plus yards, including a 57-yarder at Michigan. Only 20 of his 50 kickoffs (40 percent) were returned by opponents in 1980.
As a 6-foot-2, 195-pound senior, Andersen earned first-team All-America honors from The Sporting News, United Press International and Walter Camp. He led the team in scoring for the third time in his career with 73 points in 1981, converting 28-of-29 extra points and 15-of-20 field goals. A first-team All-Big Ten selection, Andersen ranked second in the conference in scoring with 68 points in league play (26-of-26 extra points and 14-of-18 field goals). He matched his career high with four field goals against Indiana. In addition, opponents returned just 17 of his 56 kickoffs (30 percent) in 1981. He also earned Academic All-Big Ten honors as a senior.
Andersen was inducted into the Michigan State Athletics Hall of Fame in 2011. He becomes the third former Spartan to be selected to the Pro Football Hall of Fame (Herb Adderley, Class of 1980; Joe DeLamielleure, Class of 2003).