News
Josiah Scott Selected by Jacksonville Jaguars in Fourth Round of NFL Draft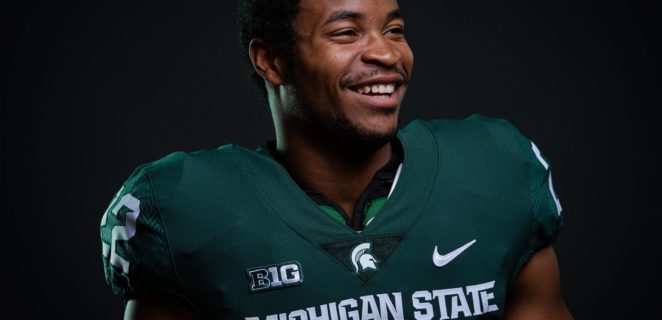 EAST LANSING, Mich. – Michigan State cornerback Josiah Scott was selected by the Jacksonville Jaguars in the fourth round (No. 137 overall) of the 2020 National Football League Draft on Saturday, April 25.
Michigan State extended its remarkable streak in the NFL Draft, as at least one Spartan has been chosen since 1941, the third-longest streak in the nation (80 straight). In addition, MSU is one of just four schools to have had at least one player chosen every year since the inception of the common NFL Draft in 1967 (Florida, Michigan, USC).
A product of Hamilton, Ohio, Scott started all 30 games of his Spartan career and was a two-time All-Big Ten selection (second team by the media in 2019; third team by the media in 2017). He had a career-high 55 tackles as a junior in 2019 and tied for fourth in the Big Ten during the regular season with 11 passes defended (eight pass break-ups, three interceptions).
Scott finished his Spartan career with 98 tackles, 25 pass break-ups and seven interceptions in 30 games, all starting assignments at cornerback. He elected to forgo his senior season to enter the 2020 NFL Draft.
As a junior in 2019, Scott was named to the Jim Thorpe Award Preseason Watch List and was a member of the team's Eagles Leadership Council. He earned MSU's Jim Adams Award for being the team's most unsung hero on defense. Scott recorded a career-high 12 tackles at Ohio State on Oct. 5 and had interceptions against Northwestern, OSU and Maryland.
During his sophomore year in 2018, Scott was sidelined for the first eight games with a knee injury, but still had two interceptions, seven pass break-ups and 13 tackles in five games. He was named the Big Ten Co-Defensive Player of the Week after picking off a career-high two passes in the season finale against Rutgers, and was selected the Redbox Bowl Defensive MVP after breaking up a career-high four passes to go along with three tackles vs. Oregon.
Scott earned Freshman All-America honors by ESPN.com in 2017 after starting 12 games and collecting 30 tackles, 10 pass break-ups and two interceptions for the nation's seventh-ranked overall defense.
Scott is the 10th Spartan defensive back to be selected in the NFL Draft since 2010 (CB Jeremy Ware, seventh round by Raiders in 2010; CB Chris L. Rucker, sixth round by Colts in 2011; S Trenton Robinson, sixth round by Redskins in 2012; CB Darqueze Dennard, first round by Bengals in 2014; CB Trae Waynes, first round by Vikings in 2015; CB/WR Tony Lippett, fifth round by Dolphins in 2015; S Montae Nicholson, fourth round by Redskins in 2017; CB Justin Layne, third round by Steelers in 2019, S Khari Willis, fourth round by Colts in 2015).
Below is a transcript of a media conference call with Josiah Scott following his draft selection:
On getting drafted in the fourth round…
"The thing about going in the fourth round, at the end of the day, my goal was to get in the league, and now it's time to stay in the league, that's kind of been my mindset the entire time. When you leave college early, you never know what to expect, I never filed for a grade or anything like that, I was kind of just betting on myself. Going in the fourth round is good with me, now, it's just time to work. There really isn't too much to it with me, it's just that I'm ready to work and I'm excited."
On what the team told him about his role…
"They said am I ready to go in the slot, (and) I definitely am. Definitely can contribute to special teams, and that's what they asked about also. I think that's what they're expecting of me, to go in and play nickel and special teams, and contribute."
On how much he met with the Jaguars before the draft…
"I actually met with them at the combine once; talked with the DB coach. And throughout this entire process actually, I talked with the scouts. I really didn't have much contact with the Jacksonville Jaguars at all. It was a surprise pick, but I'm definitely happy with being picked here and coming here."
On what the Jaguars said they liked about his game…
"Definitely toughness. He likes Michigan State guys and what they bring to the table with toughness, being able to tackle, cover, and just being an aggressive person, that's what they kind of liked from me."
On the last month and a half and the draft process…
"The last month and a half has really just been a bunch of meetings. It's been stressful at times because you're meeting with a bunch of teams throughout the entire process and you don't know where you're going to end up going, you're not able to take visits and workouts. It was kind of all over the place. Really, just to hear my name called, just 10-15 minutes back ago, it was a huge sigh of relief, and now I get to focus on playing football and doing what I love. I had a couple of friends over and obviously my full family here to celebrate right when I was called. They celebrated immediately. We'll just celebrate throughout the entire day, really. I'm super excited."
On celebrating with his family and his brothers (had three brothers who played Division III football at Mount Union)…
"Everybody is excited. Nobody (previously) was able to get to this level of just being able to get drafted, so it's a new experience for us, so that's why we're super excited, because we had a family full of football players, but no one was ever able to be drafted, I was the first one, so it's definitely special."