News
Henry "Hank" Charles Bullough 1934 – 2019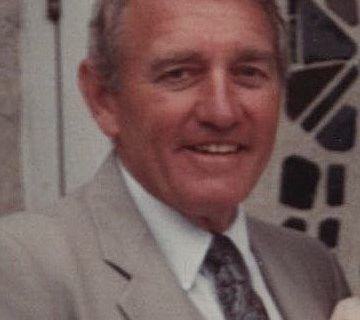 (Born Jan. 24, 1934, in Scranton, Pa.; died Nov. 24, 2019, in Haslett, Mich.) For 85 years, Bullough was his name. Football was his game. And those who knew him will never be the same.
He was known as "The Doctor of Defense," "Hurricane Hank," "True Grit" and "The Patriarch." But the names that meant the most to him were "Loving Husband" to Lou Ann for 57 years, proud "Dad" to Cheryl, Shane and Chuck and "Pa" to nine lucky grandchildren and four great-grandchildren.
Hank's blood wasn't actually green. But you would have had to cut him to prove it. Arriving on Michigan State's campus from Canton, Ohio, in 1951, he spent the next 68 years as No. 67, a starting guard for Biggie Munn and Duffy Daugherty; as a draft pick of the Green Bay Packers and the U.S. Army for four seasons; as a coach at MSU for 12 years and in pro ball for 22 more and as a key contributor to the Varsity "S" Club, the MSU Football Players Association and the well-being of Spartans long after their last snaps.
He contributed to a National Championship as a player in 1952, helped the Spartans win their first Rose Bowl the following season and coordinated one of the best defenses in history in 1965-66, including College Football Hall of Famers George Webster and Bubba Smith. Daugherty's diversity-rich teams went 19-1-1 in the mid-'60s and did wonders for the integration of the sport and the character of the country.
In his first year as linebackers coach for the Baltimore Colts, Hank earned a Super Bowl ring in January 1971, tutoring perennial Pro Bowlers Mike Curtis and Ted Hendricks. Eleven years later, he nearly reached the football mountaintop again as defensive coordinator of the Cincinnati Bengals in Super Bowl XVI.
Equal parts innovator and taskmaster, he is widely credited as the co-developer of the 3-4 defense. Hank's influence on the game we see today is unmistakable and lasting. But his ability to motivate without being murdered and to mix love and strength will never be forgotten.
Despite brief stints as a head coach of the Buffalo Bills and the USFL's Pittsburgh Maulers, Hank was best known for his tireless work as a loyal assistant. He also served the New England Patriots, the Green Bay Packers twice, the Bills and the Detroit Lions with distinction before returning to MSU in 1994 for a final season with seven-decades friend George Perles.
That was after two sons and before three grandsons made "Bullough" synonymous with Big Ten football _ six players, all with wins over Michigan, as he loved to mention. But when you asked Hank about any of his kids or grandkids, you got an update on every one of them, especially those who had never worn a helmet. To him, each and every family member was an all-star. They remain his greatest triumphs.
That willingness to promote people and places he loved and to push strong ideas at every turn led coaching colleagues to suggest a hotline: 1-800-ASK-HANK. If that line was busy, you always got a callback.
His story began as the son of an English immigrant, a coal miner in Western Pennsylvania. When the mine shut down, Levi Bullough had to leave his wife and kids behind to find work at a factory in Canton. Hank, his mother and his sister had to battle to survive on their own, living with those who practiced kindness, not football.
If you understand that background, you get the mindset of a man who never quit working for causes and never acknowledged lost causes. That culminated in his critical role in the implementation of the George Webster Scholarship, helping MSU athletes return to campus to complete their degrees, and in his outreach to former players in need of a strong hand.
Hank is survived by devoted wife, Lou Ann; brother, Larry; daughter, Cheryl (Randy) Evans; sons, Shane (LeeAnn) and Chuck (Nicole); grandchildren, Corey (Christie), Kristi, Jake, Max (Bailee), Riley, Byron, Holly, Chloe and Annika; great-grandchildren, Charlotte, Caroline, Henry and Rocky Levi; nephew, Mark (Linda) Fox and niece, Diane (Virgil) Scott.
He was preceded in death by parents, Elizabeth and Levi Bullough; sisters, Doris and Annie (Robert) Fox and nephew, Alex Fox.
The family would like to thank the wonderful, caring staff at Brookdale Meridian and Hospice of Lansing for all their support.
A Henry C. Bullough Celebration of Life will be held from 1-4 p.m. on Sunday, Dec. 8, in the Huntington Club at Spartan Stadium, with a memorial service at 2:30 p.m.
In lieu of flowers, contributions may be made to the MSU Football Players Association to honor Hank's memory (MSUFPA, P.O. Box 4897, East Lansing, MI 48826).