News
Where Are They Now: Edwin Baker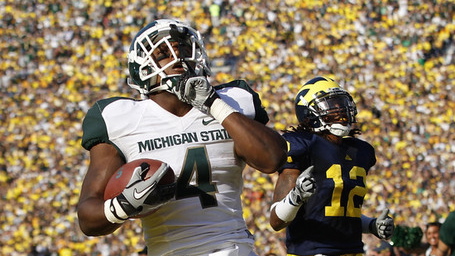 June 6, 2016 by Chris Zorbas
In January the CFL's Toronto Argonauts announced they had signed international running back Edwin Baker. I wrote about the announcement in an article you can read here. Baker had previously spent time on multiple NFL rosters including San Diego, Cleveland and New Orleans.
Since then there has not been much to write on the "Spartans In The CFL" landscape due to inactivity during the league's offseason. However, with CFL training camps now in full swing and the preseason games beginning this week there will be plenty of news. To start, let's catch up with former Michigan State Spartans running back Edwin Baker.
Due to the timing of his signing with the Argos, Edwin has had no real exposure to the CFL until the start of camp, which was only within the last two weeks. However, despite his fairly significant lack of experiencing, Edwin is taking the process in stride.
"I wouldn't say it's been a hard transition," explained Baker. "There's not a ton of rules that are totally different quite a bit of things that's different on special teams. It's like anything else, you just gotta learn it."
Edwin also praised Toronto head coach Scott Milanovich's staff for making the transition easy.
"Coaches are always going to reiterate what the rules are." praised the former Spartan ball carrier. "The coaches are doing a good job of introducing us (new players) to the league and getting us ready."
Baker, who rushed for 2293 yards and 19 career touchdowns as a Spartan, sees how the growing number of Spartans continuing professional sports careers up North could translate to success down in East Lansing.
"It definitely shows we have talented players" proclaimed Edwin "We have players that are willing to play the game, love the game and have a passion for it. It goes to show our program produces talented players and pro players who are continuing their professional careers up here."
The former Spartan is now locked into a roster battle. Baker is now competing against both his fellow running backs and the ratio of American to Canadian players allowed on the roster to make the team. Despite all this he still goes back to lessons learned at Michigan State.
"Complete your circles, enjoy the process," recalled Baker. "Complete your circles is something Coach D (Dantonio) always said, everything always comes full circle. We're all special athletes and we all have a story when we're born and where it takes us is to be determined."
Edwin will soon learn if his story is to continue with the Argos. The preseason, along with roster cuts begin this week. The Argos will have to trim their roster down to 46 by the week of their June 23rd season opener. Baker may not be facing a boom or bust scenario. However, it is rare for an import to come in and make the team with no prior Canadian experience, and a season on the practice roster is fairly common place given the restrictions on the roster. Also, should the Argos cut Edwin outright, he will probably draw interest from another club.