News
Spring Game, Youth Clinic Scheduled For Saturday, April 7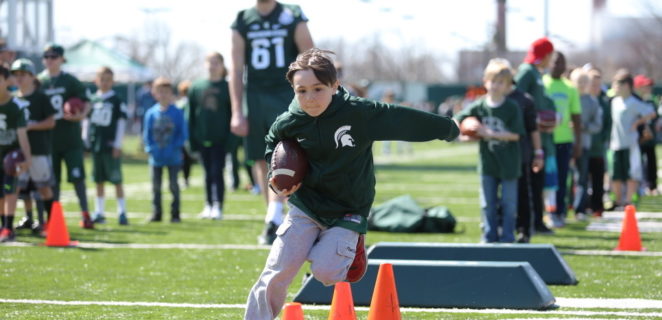 EAST LANSING, Mich. – The Michigan State football program will host its annual spring game and youth clinic on Saturday, April 7. Information on the two events is listed below.
SPRING GAME INFORMATION (PRESENTED BY McLAREN HEALTH PLAN):
Michigan State's Green-White spring game, presented by McLaren Health Plan, is scheduled for 5 p.m. in Spartan Stadium on Saturday, April 7. Admission is free and the stadium gates (Gates B, C, J, K) will open at 3:30 p.m.
Parking is free (Lots 79, 56, 39/40, 41; Ramps 5 and 7; Lot 62W has been reserved for disabled parking).
Please be advised that there are multiple athletic events taking place on campus, in addition to the youth clinic, throughout the day:
• Auto Owners Insurance Spartan Track and Field Invitational, 9:40 a.m., Ralph Young Field
• Women's tennis vs. Northwestern, 12 p.m., MSU Outdoor Tennis Courts (Free)
• Softball vs. Minnesota, 1 p.m., Secchia Stadium (Free)
• Baseball vs. Nebraska, 1:05 p.m., McLane Baseball Stadium (Free)
YOUTH CLINIC INFORMATION (SPONSORED BY SPARROW HEALTH SYSTEM):
Prior to the spring game, MSU's coaching staff and players will conduct a free youth football clinic, sponsored by Sparrow Health System. Children, ages 8-12, are invited to attend the youth clinic (no registration required) from 12:30 p.m.-2 p.m. Gates to the John and Becky Duffey Practice Fields, located off of Shaw Lane, will open at 12 p.m.
Parking lots (79, 56, 39/40, 41; Ramps 5 and 7) will open at 11 a.m. for clinic participants (please note: there is an intercollegiate track meet scheduled for Saturday at Ralph Young Field; parking will be limited in lot 79).
Clinic participants will be assigned by age to a practice field to rotate through all drills (Duffy Daugherty Football Building indoor facility and John and Becky Duffey Football Practice Fields). After completion of all drills, MSU head coach Mark Dantonio will address all youth clinic participants on the John and Becky Duffey Football Practice Fields. The children will be dismissed from that location following Dantonio's comments at approximately 2 p.m.
The purpose of the clinic is to introduce youngsters to the game by stressing fundamentals. No football gear is required. In addition, clinic participants will receive a free Spartan football poster and a Country Fresh ice cream, as well as a coupon for a complimentary hot dog and soft drink to be redeemed at a concession stand in Spartan Stadium during the spring game.
MEDIA/BROADCAST INFORMATION:
The spring game will be broadcast live on BTN and BTN2Go, with Lisa Byington (play-by-play), Darien Harris (analyst) and Michelle McMahon (sidelines) calling the game. In addition, Spartan Sports Network will broadcast the spring game, with George Blaha (play-by-play), Jason Strayhorn (analyst) and Will Tieman (sidelines) on the call, beginning at 4:30 p.m. to several radio affiliates around the state as well as online at SpartanSportsNetwork.com.
The official website of Michigan State Athletics, msuspartans.com, will provide gameday audio (via spartansportsnetwork.com), highlights and post-game quotes. For live in-game updates, fans also can follow @MSU_Football on Twitter.
ADDITIONAL SPRING GAME NOTES:
• The Spartan Bookstore will be on the east and west concourse of Spartan Stadium selling Spartan merchandise, including clearance items marked down as much as 50 percent off the normal retail price.
• Fans are reminded no bags or purses are allowed inside Spartan Stadium. This includes but is not limited to: backpacks, purses of any size, camera cases, binocular cases, wallets not stored in pockets, bags, diaper bags, seat cushions with pockets that are used for storage. If any of these bags are attached to a person's waist or wrist, they still are not allowed in the stadium.
• Those individuals with true medical needs will be directed to Gate K. Individuals entering that gate may bring the medical items in any bag. Those bags will be searched and tagged by an MSU Police Officer. The officer working that gate has the final determination if that item is a true medical need.
• Fans are reminded that the "open container" ordinance will be enforced on campus and in parking lots for the spring football game.
GEORGE WEBSTER SCHOLARSHIP FUND – PRESS BOX SEATS:
A limited number of press box seats – priced at $90 each – remain on sale for the spring game. (Note: Minimum age requirement is 12 for press box admission; deadline is Friday, April 6 at noon.) It marks the 11th year in a row that fans have an opportunity to purchase press box seats and enjoy the same view as the media that cover Spartan football. Proceeds from the sale of press box seats will benefit the George Webster Scholarship Fund. Fans may order press box seats online at msuspartans.com. Click here to order your press box seats online: Press Box Seats
HELP TACKLE HUNGER FOOD DRIVE:
The 11th-annual Help Tackle Hunger Food Drive to support the MSU Student Food Bank will take place at the spring game.
Fans attending the spring game are encouraged to make monetary donations at concession stands throughout Spartan Stadium. In addition, a portion of the proceeds from the 50/50 raffle will be donated to the MSU Food Bank.
The 11th-annual Help Tackle Hunger Food Drive is sponsored by MSU's Division of Residential and Hospitality Services and the Athletics Department, with Becky Dantonio serving as the honorary chair.