News
Spartan Football Fantasy Camp Scheduled for June 12-13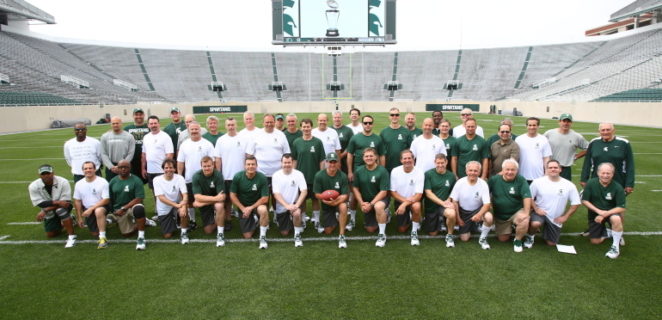 April 17, 2017
EAST LANSING, Mich. – Adult men (18 and older) are invited to enroll in the 12th-annual Spartan Football Fantasy Camp, scheduled for June 12-13 on the Michigan State campus. The entire Michigan State coaching staff, led by head coach Mark Dantonio, plus select current players will conduct offensive and defensive drills and a 7-on-7 scrimmage.
The non-contact practice sessions will be held in Spartan Stadium, and one of the fantasy camp highlights is the player introductions by the public address announcer. All practice gear – including game jerseys, shoes and authentic keepsakes – will be provided while having the opportunity to dress in the new locker room.
New this year is an option for the fantasy campers to play a round of golf with current Spartan football players and coaches. This event will take place on the morning of June 12 at College Fields Golf Course in Okemos.
The program also includes a tour of the 25,000-square-foot Skandalaris Football Center, dinner and breakfast with the MSU coaching staff and a camp-ending dinner with distinguished alumni and former players.
Previous fantasy camp guest instructors have included: Morten Andersen (kicker, 1978-1981), Bill Burke (quarterback, 1996-99), Tico Duckett (running back, 1989-92), Herb Haygood (wide receiver, 1998-2001), Jim Miller (quarterback, 1990-93), Javon Ringer (running back, 2005-09), Andre Rison (wide receiver, 1985-88), Ed Smith (quarterback, 1976-78), Josh Thornhill (linebacker, 1998-2001) and Lorenzo White (running back, 1984-87).
The cost of the fantasy camp is $1,600 per participant ($1,500 each for returning campers), including accommodations at the Kellogg Center on campus. The optional Monday golf outing is $300 per camper or a foursome for $1,200.
The fantasy camp roster is limited to 60 participants, and the registration deadline is May 15, 2017.
For additional information, visit greenwhitefantasy.com or contact Spartan Football Fantasy Camp coordinator Dino Folino: (517) 432-5576/285-9356 or folino@ath.msu.edu.