News
Quotes From MSU Football Pro Day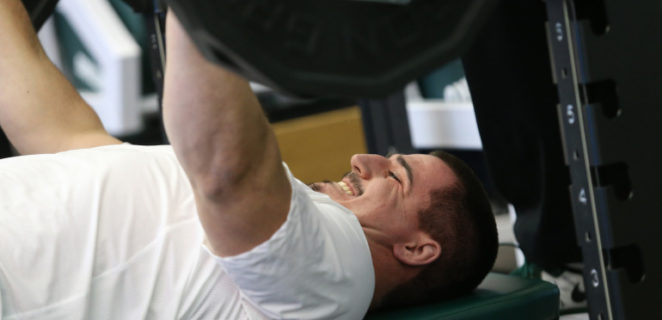 March 22, 2017
EAST LANSING, Mich. — Several former Michigan State football players spoke to the media following MSU's Pro Day on Wednesday, March 22 at the MSU Duffy Daugherty Indoor Practice Facility.
Linebacker Riley Bullough
On how he thought his workout went…
I think it went great today. It was good to be back, be with the guys and be able to showcase obviously some of the stuff I have been working on. Not being able to run at the combine, it was nice to do it here and put this phase behind me and start thinking about football again.
On how he thought his 40 went since he couldn't do it at the combine…
I honestly think I ran really well. I was happy with my times with the 40, with the agility drills. Looking forward, I can kind of stop thinking about what's my time here, what's my time with that and kind of think about football but overall I think I did a great job.
On what he's hearing from different teams…
I think when teams look at me they see a guy with a high motor, a guy that loves football and that means a lot to me because that's what I pride myself on. I think they can see those things and that's important.
On what kind of advice he's been receiving from his brother Max (Bullough) and how he thinks he measures up in the NFL…
His biggest thing is you have to stay patient. It's a long process, sometimes it's frustrating, sometimes it's great. There's a lot of ups-and-downs but you just have to stay patient through the whole thing and really whatever happens, happens. You have to roll with it and make the best out of it and that's what I'm looking to do.
On if he has made any visits with any teams…
I haven't gone anywhere, no, but I've talked to multiple teams. That process kind of starts now so we will see.
On if it's a surreal feeling having college over and taking the next step and beginning a career in the NFL…
Yeah it's a crazy feeling. It was awesome being back in the indoor facility working out with my teammates who I've done so many workouts with in there. So to be able to do that and perform well and it kind of just closes the book on my Michigan State career, so I'm moving on to the NFL. It's been awesome here but I look forward to what's next.
On what he can bring with him from MSU to the NFL…
I've learned a ton since being here. So many things instilled in me; hard work, dedication to the game, the commitment that it takes, all of those things will follow you the rest of your life and I truly believe that. I think all of the other guys will say the same thing, so it's good to have that going into the NFL.
On comparing his performances at the combine to today's performance…
I didn't run at the combine so I really didn't have much there. It was just good for me to get here and perform well at Pro Day so teams can have those numbers and I think I performed well so I'm happy about it.
Quarterback Tyler O'Connor
On the feel of his overall performances…
I'm pretty happy about it. I think at the end I threw 64 balls and was 62-of-64. The two throws, sure maybe move them six inches but for the most part it was very good with all of that. My times were as expected and from what I've heard, I mean scouts all have different times but I got my times as expected and my jumps were better than I thought, so pretty happy about it.
On the difference between a Pro Day kind of day and a game day…
Today you are your own program I guess in that way. On a game day you are apart of a huge fan base, a huge team and everything. Today it's not a selfish thing to say, this your day to perform to your best ability and put yourself in the best situation to perform so it's tremendously different, it's almost like playing tennis by yourself.
On if he was nervous for today…
No, I really wasn't. I'm very comfortable and excited with how I've been throwing the past couple months, with my training and things like that. I've been very anxious to get here. I do know with my degrees if football does fall through I've got my backup plans set in stone.
On if the NFL quarterbacks produced at Michigan State helps his case or if it is irrelevant…
It certainly helps if it does. If anything it's a pro style offense thing. All the quarterbacks under Coach Dantonio have had great opportunities to succeed in the NFL and I hope that it carries some weight for me, I certainly think it will. Talking with guys like Kirk (Cousins) and Drew Stanton and Hoyer (Brian Hoyer) and Connor (Cook), I certainly feel like I am able to throw with them and things like that. I have been throwing with Drew the last few months and I haven't been like `Oh my gosh, I can't do this.' I wouldn't be here today if I didn't think that I could.
On how much teams have talked about what happened last season…
Certainly it's one of the earlier questions in the interview process but the same things that I guess I've answered to you in the past. There's a lot of smaller things that go into it, a lot of behind the scenes. We fought hard all year long. The outcomes of games weren't as planned but we were ahead in every single game and we fought hard and did what we could.
On what Pro Day meant to him…
For me it's almost judgment day. In a sense it is but you don't really find out for about another month. You get a feel for how you performed, what the scouts thought of you, if you fit in, if you fit in with the NFL job profile. I think it's kind of a judgment day mentality, it's a very individualized day. Like I said, you are performing for yourself, you are your own program today. You're writing your own story and your own job application for the NFL.
On seeing some of the former Spartans there…
It's very cool. The support of former Michigan State Spartans is tremendous and it's something that I want to do the rest of my remaining years as well. Just the support that I've had as far as my Pro Day prep, has been fantastic. Drew Stanton has been a tremendous help, Todd Anderson has been a tremendous help. Neither are guys that I've even played with but to just have Michigan State branded, the Michigan State blood carries a lot. It's a family thing and it's something I plan to do for younger guys in the future.
Safety Montae Nicholson
On his playing experience at Michigan State and his decision to forgo his senior season…
I played a lot as a freshman. I started a few games, three games probably. From then on, I started at both safeties. I've had a pretty good career here, and now I just felt like my time here was great, as far as playing, my relationships I've made, it was just time for me to move on and learn more at the next level. Not saying I wasn't doing it here, because by all means I was, I've learned more here than anywhere else, because our staff was so great, but there was always a means to an end, you know, as a little kid, you dream of playing college football, but the ultimate dream is to play in the NFL. I had the opportunity, so I decided to seize it. I'm trying to make the most of it now.
On his sling and shoulder injury…
Most people know about it now. A torn labrum. I got it fixed. It's all good. I just had surgery on March 8th. I'm looking to come back early August, mid-August at the latest. I'm going to do everything in my power to get healthy fast. Whatever the doctor tells me, I will do tenfold. I just got the stitches out actually recently, and it's already feeling loads better.
I was out in California and I got an MRI, and they said it was torn. We had a plan to go to the combine, put up numbers. If I was happy with them, get the surgery right away afterwards, if not, come to Pro Day and take care of business there. I spoke with my agent, he seemed to be happy with my numbers that I put up in Indy, and I was too, so we decided to get it done two days afterwards, so I can heal and be ready for wherever I go.
On what he was able to do at the combine…
I did everything except bench. I feel like I had a pretty good combine. I ran a pretty fast 40. I'm pretty happy about my numbers. I'm even happier with the way the interviews went. I felt like I presented myself well. Showed more than just the football player that I am, I showed the person and type of character that I have, and I think it went really well.
On any teams that are standing out/showing more interest to him or just showing everyone what he has…
That's pretty much what I was there to do. Guys my size aren't supposed to run as fast as I ran. That was a big thing for me, to turn heads with my speed as well as my size. My ability to turn and get out of breaks fast, I feel like I did that. I talked to pretty much every team there in the informal interviews. I feel like they all went very well. So at this moment, I'm just kind of waiting until that day comes.
On how he thinks he did today…
The interviews, I think I did really well. I handled business very well. I talked a lot with the Bengals today, and the Cowboys, but I think I definitely did, just built on what I initially started.
On if he has any regrets about going to the draft or is ready to keep going…
No regrets. None of that ever got to me. I was there, I was enjoying the process. I feel like if you let it get to you, that's when things start going wrong. You just have to have fun with it, and I feel like that's what I did, and that's why I had the success at the combine. Because it is a stressful event, they're working you out, and not just physically, but mentally. They're trying to see if you can handle things, stress, and I think I handled it pretty well. Just a chance to get out there and meet other guys you've met them before at camps and everything, but you're out there for a few days. You get to talk to them, sit down with them, have a conversation. That was pretty cool, because you know the guys, but you played against them, so that's pretty much the extent of your relationship. I was pretty much just taking everything in. Trying to make the best of the opportunity I was given. Each opportunity. Each interview. Every drill. I think I did very well.
On where he has been working out, and what he has been doing to prepare…
Before the combine, I was training out in California with Proactive Sports. Weather is pretty good out there. Just training, trying to get my body right and doing everything that I can to get ready for the combine, and after the combine, with the surgery and everything, trying to do the same thing. I'm trying to get my body right and trying to get back to 100 percent as fast as I can, so I can make an impact to wherever I go, or where I'm picked up in the draft. The grind never stops. That's a big thing here at Michigan State. It really continues on past when we leave here.
On who he has a visit set up with already…
So far just Seattle. I believe my agent is working on a few other ones, but we'll see what happens. I have a few more weeks until the big day.
Fullback Prescott Line
What he hears from his agent that teams are really liking about him…
I think how things are kind of covered, I can play special teams well and stuff like that, also things like where there's film on me, blocking film and stuff like that as well, kind of me going after guys at the end, or the guy I didn't need to block and getting him out of the hole, instead of hitting a man, denting him. Stuff kind of like that, that my agent is helping me spread the word out as well.
On where he worked out after the season ended…
This place called Ignition, down in Cincinnati, with a trainer named Clif Marshall. I trained there the last two months.
On if this his setting to "shine" (doing 39 reps)…
Yeah, that's my one moment to shine! The rest, you know, the 40, and stuff like that, it's kind of putting on the pressure. Definitely the bench was my time to go.
On how different this day is for a fullback, since they are very under the radar…
It's kind of the position, you just have to work you. You kind of spread your word out a lot. You have to have a good agent spread your word out. Just have to work hard. Just have to have that mentality.
On getting much feedback from teams…
Right now, from what my agent has told me, he's kind of just told me that they're interested, playing, because I can play special teams as well, as well as play fullback. So that's kind of a big bonus that I also have.
On if it helps coming to a program like MSU that runs the offense that it runs…
Yes, it definitely benefited me. I think from my last school, this school is definitely on a higher stage. I kind of had that position of power, right. Where I'm coming out and hitting in, or coming down, maybe crash somebody else, doing something like that. I think that definitely helped show my skills, what I can do from that position.
On what Pro Day means to him…
Definitely Pro Day to me, is to show some of my abilities, definitely my strengths for bench, my short speed, too, 10-yard dash, stuff like that, plus my agility on the shuttle and the three-cone drill. It definitely kind of helps show coaches I'm a little faster than maybe they thought I was, or a little stronger than maybe they thought I was.
On what is it about the bench that amps him up so much…
I don't know, I've always just kind of been working hard at bench. Over the offseason, I got really into it. It really showed today that the offseason really helped. I've done 41, and that was the goal, but a little shy of it. I'm still happy about it.
On what kind of pride he has to play his position…
I mean, to be a fullback, it's kind of a selfless position. I mean, just like a lineman. You're going out there, you're blocking for somebody else, and maybe you don't get the credit or the fame or whatever, but you do it because of the team. You always have to be a team player when you're playing a spot. So, that's kind of how I see myself, and that's kind of what I believe in.
On what it means to see the Spartan family all here, with former players in attendance…
It's a big family, and they're close, and I loved it. It's big time. I mean, they definitely accepted me in right away. They showed me the path, and a lot of guys really helped me out, honestly. I definitely really enjoyed being here with them.
On what it would mean to him to get to the NFL
It would definitely be huge. To be in the NFL, play with my brother, or against my brother, that would be fun! It would be a good time.
On what he thinks of his performance as a whole today…
Besides the 39 reps on bench, I thought I did pretty good on the three-cone drill, the shuttle. I really wanted to show out in that. They show my bursts, my acceleration speed and stuff like that. There's a couple things I could have fixed in the 40, but overall I thought I did pretty good.
On not being invited to the combine, was there an extra chip on his shoulder…
Yeah, definitely, made me kind of work a little harder, train a little harder. Get that little edge on you where you want to definitely show yourself, and you can definitely do better than they think that you can.
Tight end Josiah Price
On how he thinks his workout went…
I felt really good about how I did today. I moved really well, tested very well and I feel very confident in it. I've put in a lot of work over these last two months training for today and it is a great relief and I'm very happy to be done with it and thankful for how I did.
On what the feedback has been like…
I've heard a lot of good things about being a complete player and complete tight end. I can catch the ball really well and get open and also that I'm a very good blocker. So, those are a lot of the positive things that I have been getting back and that I can be a three-down tight end. The biggest knock is my athleticism and speed, but I think today I was able to prove that my numbers are right there with everyone else's and I feel good about it.
On if there is a style of tight end that he patterns himself off of…
I like to be my unique self and be the best Josiah Price I can be, but I am definitely a student of the game and watch a lot of film and try to take pointers from guys. Jason Witten is a guy I love to watch and take things away from him. I've watched a lot of film on Gronk (Rob Gronkowski) and Travis Kelce and pick up things from them. My game is my game. There are definitely a lot of great things that those guys do and try to take pointers from and get better.
On if it is tough to break into the NFL and the tight end position…
I feel confident in my skills and skill-set at tight end. I feel like there is nothing I can't do. Here at Michigan State, it really prepared me for all of the movements I could do. I can move to many spots and pretty much any blocking scheme because we ran a pretty similar NFL offense here. It is just going to be getting terminology. I'm really excited about the opportunity and my future.
On there being extra motivation to perform in front of the scouts after not being invited to the combine…
It was one of those things where I was kind of expecting to happen and it didn't happen, so I definitely used it as motivation and as a chip on my shoulder. When I go into fall camp, I am going to have that in the back of my mind that I have to prove people wrong and that I am going to play in the NFL for a long time and have a great career. Just because I didn't get invited to the combine doesn't mean anything.
On what this Pro Day meant for him…
Pro Day is a dream come true. You're always working for that opportunity at the next level and NFL and I have always dreamed of this moment and day and now it's here, so it was really cool to go through it and work out. It was fun and I had a good time with the guys wearing Green and White one last time, so it was good to catch balls from Tyler and be with the guys again working out and lifting. It was really fun and I am thankful for the opportunity.
Wide receiver R.J. Shelton
On how he thinks he performed…
I felt like I did a really good job. Just trying to impress the coaches and the scouts and show that I am a top player in this draft among the wide receivers and just being a consistent player like I always am.
On how much it helps him to be able to do so many different things…
It's huge. Doing the things I did while here at Michigan State is something that… I'm like a utility guy. I can do whatever, backfield, punts, kick returns, wide receiver inside or out. Whatever the team needs me to do for us to be successful, I'm willing to do that.
On how he felt is 40-yard dash went…
I feel like it went tremendous. I don't know the times, but I felt like I did a really good job. I felt fluid. That was the big thing for me, the bench and the 40 is what I really harped on and I felt like I did a really good job.
On what it means to see former players who came back to support them…
It's amazing. It's the Spartan family. Players coming back home because we were there when they did it. I know there are a lot of guys that wish they could have made it today. It's always nice to see guys come back to give us hope. We talk all of the time with guys who go through here. It's just amazing to see them and talk with them and have them cheer for you. It's a family-type thing that we have at Michigan State, so that is always nice.
On how much his continual improvement in college and his current upside impresses the NFL…
I think it's a big upside just being consistent in my time being here at Michigan State. Making plays when they are necessary and helping the team win in any circumstances. Moving forward, whatever team picks me, they are going to get a guy that's going to do the right things, put the team first, and when his name is called to make plays he'll make plays.
On what it would mean to him and his family to make it to the NFL…
It's huge. This is bigger than me. My family put me in this position. The community of Beaver Dam (Wisconsin) put me in this position and Michigan State put me in this position. So, this is bigger than me. It would be everything to me and my family to know that this was a dream that I had when I was younger, and to know I'm playing among the best NFL players would be a blessing.