News
Mel Tucker Named Michigan State University Head Football Coach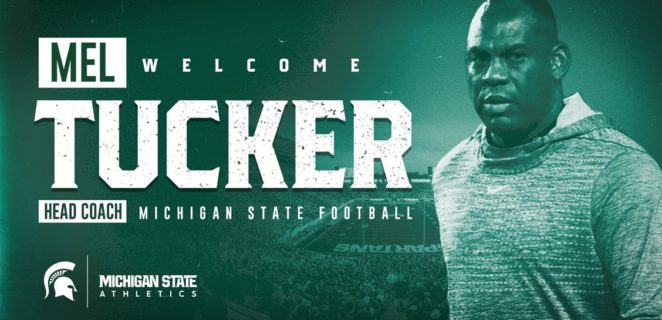 EAST LANSING, Mich. – Mel Tucker, a 23-year coaching veteran with championship experience, has been named Michigan State University's 25th head football coach.
The hire is pending approval by the MSU Board of Trustees this afternoon. Tucker is scheduled to be introduced at a press conference at 6:30 p.m. today at the Gilbert Pavilion in the Breslin Center.
"Mel Tucker has a strong reputation as an intense and dynamic coach and we're excited to have him bring that energy to MSU," said Michigan State President Samuel L. Stanley, Jr., M.D. "Leading our football program on the field and in their development as student athletes is no small task and we are confident he is the right person for the job. We look forward to having Coach Tucker join our Spartan family."
"It brings me great pleasure to welcome Mel Tucker to the Spartan family as the 25th head coach in Michigan State football history," Michigan State athletic director Bill Beekman said. "Mel brings a championship pedigree, NFL experience, connections to our region, success on the recruiting trail and head coaching experience to our program. Beyond his impressive list of credentials is an even more impactful leader of men with an energetic personality that will pay dividends on the recruiting trail. Perhaps more importantly, he'll connect with our student-athletes to help them develop beyond just their skills on the football field. His attention to detail will leave no stone unturned in his drive for championships.
"It's fitting that Mel returns to the place where his coaching career began as a graduate assistant. While he returns to Michigan State with a loftier title, his passion is every bit as fierce. Head football coach might be his title, but he will be an amazing ambassador for our department, our university and more than 550,000 living alums."
"It is a blessing and honor to return to Michigan State University where I began my coaching career with Nick Saban," said Tucker. "Thank you to President Stanley, Athletic Director Beekman and the Board of Trustees for the trust that you have placed in me to lead one of the finest football programs in the nation.
"Returning home to Michigan State is a once in a lifetime opportunity for me and my family but it created the toughest decision of my life – to leave Colorado. There is no way to fully express my gratitude to the Buffalo student-athletes, Rick George, and our staff. I am incredibly thankful for our time together and I will always believe in Colorado football.
"Today, I am excited to get to work for the Spartans. Together, we will be relentless to create an integrity-filled and winning culture for our staff, coaches and student-athletes in everything we do – on and off the field."
Tucker's resume, which began as a graduate assistant at Michigan State under Nick Saban, has an impressive track record of success. The journey that has led him back to East Lansing includes a head coaching position at the University of Colorado (2019), five seasons as a defensive coach in the Southeastern Conference (2000; 2015-18), 10 seasons in the NFL (2005-14), and four seasons at Ohio State (2001-04). He was a defensive coordinator in the NFL for seven seasons and 11 seasons overall in his coaching career.
In 142 games as a full-time coach in the FBS, Tucker's teams have collected a 106-36 (.746) record, including 11 postseason bowl games (2000 Peach, 2002 Outback, 2003 Fiesta/BCS National Championship, 2004 Fiesta, 2004 Alamo, 2015 Cotton/CFP Semifinal, 2016 CFP/National Championship, 2016 Liberty, 2018 Rose/CFP Semifinal, 2018 CFP/National Championship), three conference championships, three national championship games and two national championships (2002 with Ohio State, 2015 with Alabama). He coached 160 games in the National Football League (64 with Cleveland, 64 with Jacksonville, 32 with Chicago).
The 48-year-old Tucker is nationally recognized as a top recruiter and developer of talent, working with numerous NFL Draft selections, including nine first-rounders, and multiple All-Americans and Pro Bowlers. He has been on staffs with some of the top collegiate coaches in the game, including Saban, Mark Dantonio, Kirby Smart and Jim Tressel.
During his first season as a collegiate head coach at Colorado in 2019, Tucker posted wins against Washington, Stanford, Arizona State, Nebraska and Colorado State en route to a 5-7 overall record. The three Pac-12 wins were the second most by the Buffaloes since joining the conference in 2011. Six players earned All-Pac 12 honors, including first-team linebacker Nate Landman, who ranked fourth in the league with 109 tackles. Colorado's 2020 recruiting class was ranked No. 35 in the nation by 247Sports, the highest for the Buffaloes since 2008.
Prior to accepting the head coaching role at Colorado, Tucker spent three seasons (2016-18) as the defensive coordinator and secondary coach at Georgia. The Bulldogs were 32-9 under Tucker's leadership of the defensive unit and finished in the FBS Top 20 for total defense three consecutive years (No. 16 in 2016; No. 6 in 2017; No. 13 in 2018). One of the staff's top recruiters, Tucker was ranked as the No. 14 recruiter in the nation by 247Sports based off the class he helped signed before the 2018 season.
UGA had a banner year in 2017, finishing No. 2 in the national polls with a 13-2 record after winning the SEC title over Auburn and the College Football Playoff Semifinal at the Rose Bowl against Oklahoma, while playing in the CFP National Championship vs. Alabama. Georgia's defense finished second in the SEC and sixth nationally in both scoring defense (16.4 ppg) and in total defense (294.9 ypg), while also finishing second in the conference in rushing defense. Roquan Smith, who was named a unanimous All-American, won the Butkus Award as the nation's top linebacker and was the eighth-pick overall in 2018 NFL Draft.
Tucker arrived in Athens after helping Alabama win the 2015 national championship as the assistant head coach/defensive backs coach in his lone season in Tuscaloosa under Saban. Tucker worked with future NFL first-rounders and Pro Bowlers Marlon Humphrey and Minkah Fitzpatrick during the Crimson Tide's national championship season, which included wins over Florida for the SEC Championship, Michigan State in the CFP Semifinal/Cotton Bowl, and Clemson in the CFP National Championship. It marked the third time Tucker was hired by Saban.
Saban originally gave Tucker his first job in the coaching profession as a graduate assistant at Michigan State for two seasons (1997-98), where he worked directly under Dantonio, the winningest coach in Spartan history.
Tucker landed his first full-time position in 1999 as a defensive backs coach at Miami (Ohio) for Terry Hoeppner, then reunited with Saban at LSU for one season in 2000 before joining Jim Tressel's staff at Ohio State for four years (2001-04) coaching defensive backs. Under Tressel, Tucker helped the Buckeyes go 14-0 in 2002 while winning the BCS National Championship over Miami (Fla.) in the Fiesta Bowl. Tucker, who was promoted to co-defensive coordinator in his final season at OSU in 2004, helped OSU collect a 40-11 record during his four seasons in Columbus. He also recruited exceptionally well for the Buckeyes, directly helping bring in four future first-round picks (WR Ted Ginn Jr.; WR Anthony Gonzalez; CB Vernon Gholston; DB Malcom Jenkins) and Troy Smith, the 2006 Heisman Trophy winner.
Following his successful stint at Ohio State, Tucker moved up to the professional ranks to coach his hometown Cleveland Browns as the secondary coach under Romeo Crennel, who had previously won a Super Bowl as a defensive coordinator for the Patriots. Tucker was promoted to defensive coordinator in 2008, and the Browns finished the season ranked second in the NFL in interceptions (23) and 16th in scoring defense (21.9 ppg). For his four seasons overall with Cleveland from 2005-08, the Browns ranked fifth in the league with 73 interceptions, seventh in passing yards allowed and gave up the fourth-fewest completions of 25-plus yards.
Tucker continued his coaching career in the NFL with the Jacksonville Jaguars. He was hired by Jack Del Rio to be the defensive coordinator and secondary coach in 2009, then moved solely into the defensive coordinator role for the next two seasons. He served as the interim head coach for the final five games of the 2011 season, in which the Jaguars ranked sixth in the NFL in total defense (313.0 ypg). Tucker returned to Jacksonville for the 2012 season to be the assistant head coach and defensive coordinator under Mike Mularkey.
Tucker spent his last two seasons in the NFL as the defensive coordinator for the Chicago Bears working for Marc Trestman in 2013-14.
A 1995 graduate of the University of Wisconsin with his bachelor's degree in agricultural business management, Tucker was a member of the first recruiting class for Hall of Fame Coach Barry Alvarez. He lettered three times at both cornerback and safety from 1990-94 and was on the Badgers' 1993 Big Ten champion team that defeated UCLA in the Rose Bowl, 21-16. As a sophomore, he made a game-saving hit in the end zone with time running out that preserved a 19-16 win at Minnesota. He had 47 tackles and four pass deflections in his career (he missed his entire junior season after breaking a leg in fall camp).
Tucker remains close with several Badger teammates who have gone on to make their marks in football, including Troy Vincent (the NFL executive vice president for football operations), Chris Ballard (Indianapolis Colts general manager) and Darrell Bevell (Detroit Lions offensive coordinator).
He was born Melvin Tucker II on Jan. 4, 1972 in Cleveland, Ohio, and graduated from Cleveland Heights High School, where he was an all-state performer in football and an all-conference basketball player. He is married to the former JoEllyn Haynesworth, who earned her undergraduate degree at the University of Illinois and her law degree from Rutgers University. The couple has two sons born on the same day (Feb. 18) two years apart, Joseph (16) and Christian (14).
THE TUCKER FILE
BORN: Jan. 4, 1972
WIFE: JoEllyn
CHILDREN: Joseph and Christian
EDUCATION: Bachelor's degree in agricultural business management from Wisconsin in 1995.
PLAYING EXPERIENCE: Four-year letterwinner as a defensive back at Wisconsin (1990-94).
PREVIOUS COACHING EXPERIENCE:
Graduate assistant at Michigan State (1997-98)
Defensive backs at Miami-Ohio (1999)
Defensive backs at LSU (2000)
Defensive backs at Ohio State (2001-03)
Co-defensive coordinator/defensive backs at Ohio State (2004)
Defensive backs with Cleveland Browns (2005-07)
Defensive coordinator with Cleveland Browns (2008)
Defensive coordinator/secondary with Jacksonville Jaguars (2009)
Defensive coordinator with Jacksonville Jaguars (2010-11)
Interim head coach with Jacksonville Jaguars (2011)
Assistant head coach/defensive coordinator with Jacksonville Jaguars (2012)
Defensive coordinator with Chicago Bears (2013-14)
Assistant head coach/defensive backs at Alabama (2015)
Defensive coordinator/secondary at Georgia (2016-18)
HEAD COACHING RECORD: 5-7 (.417) in one season as head coach at Colorado (2019).
POSTSEASON EXPERIENCE: Coach: 2000 Peach, 2002 Outback, 2003 Fiesta/BCS National Championship, 2004 Fiesta, 2004 Alamo, 2015 Cotton/CFP Semifinal, 2016 CFP/National Championship, 2016 Liberty, 2018 Rose/CFP Semifinal, 2018 CFP/National Championship). Player: 1995 Hall of Fame Bowl.
NFL FIRST ROUNDERS: Tucker has coached five NFL first-round draft picks along with recruiting four others. COACHED (5): CB Chris Gamble (Ohio State; No. 28 overall pick by Carolina, 2004 Draft); CB Donte Whitner (Ohio State; No. 6, Buffalo, 2006); CB Marlon Humphrey (Alabama; No. 16, Baltimore, 2017); S Minkah Fitzpatrick (Alabama; No. 11, Miami, 2018); LB Roquan Smith (Georgia; No. 8, Chicago, 2018). RECRUITED (4): WR Ted Ginn, Jr. (Ohio State; No. 9, Miami, 2007); WR Anthony Gonzalez (Ohio State; No. 32, Indianapolis, 2007); CB Vernon Gholston (Ohio State; No. 6, N.Y. Jets, 2008); CB/S Malcolm Jenkins (Ohio State; No. 14, New Orleans, 2009).
WHAT THEY'RE SAYING ABOUT MEL TUCKER
Mark Dantonio, winningest coach in Michigan State football history:
"I first came in contact with Mel when he was the graduate assistant here at Michigan State for Coach Saban. He did an outstanding job with the defensive backs. When I went to Ohio State to work for Coach Tressel, he asked me who should coach the secondary, and I immediately thought of Mel. He was a part of the national championship staff and has gone on to coach at the highest levels of football.
"Mel is charismatic, brings good energy, and is a very forward thinker. He's also an outstanding recruiter who connects with his players, but also holds them accountable. He's from the Midwest and has a Spartan background with knowledge of the Big Ten.
"I'm extremely excited for Mel and his family. I'm looking to support him in any way possible. Go Green!"
Kevin Warren, Big Ten Conference Commissioner:
"I am thrilled to welcome Mel Tucker back to the Big Ten Conference as he embarks upon his new role as head football coach at Michigan State University. His integrity, demonstrated work ethic and knowledge of what it means to become a Big Ten champion – both as a student-athlete at Wisconsin and as an assistant coach at Ohio State – will clearly provide him with the skills and experience necessary to lead the Michigan State football program that prepares young men for successful lives upon graduation. Mel epitomizes what it means to be a champion both on and off the field. I look forward to working with Coach Tucker and welcoming his wife JoEllyn, and their sons Joseph and Christian into the Big Ten Conference."
Nick Saban, Alabama Head Football Coach:
"I've known Mel Tucker since my days coaching at Michigan State when he was a graduate assistant on our staff. Since then, Mel has made a name for himself as one of the best and brightest coaches in our profession. I believe he will do a tremendous job as the head coach of the Spartans. MSU is getting a guy with infinite class and a great personality, who is smart, works hard, and does it with an incredible amount of enthusiasm and positive energy. Mel is a tireless recruiter who knows the game of college football and understands what it will take to be successful in East Lansing."
Barry Alvarez, University of Wisconsin Athletic Director:
"Mel was a part of my first recruiting class at Wisconsin and helped us turn the program around. He is an outstanding individual and a really good football person. His background, the people and the programs he has worked for and the success he's been a part of is very impressive. He's been successful at both the NFL and college level. He is truly a quality individual and it is great to have Mel back in the Big Ten Conference."
Kirby Smart, Georgia Head Football Coach:
"I worked with Mel at Alabama and when I became the head coach at Georgia, a top priority was to bring Mel along in the defensive coordinator role. In his three years at UGA, he was a great coach, trusted friend and colleague, and role model for our players. Mel helped us build the foundation of the program we have at Georgia and I'm confident he'll be a great fit for the Spartans."