News
Mark Dantonio Announces Decision To Retire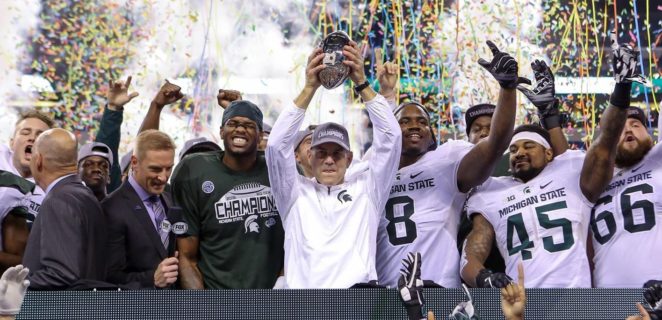 EAST LANSING, Mich. – After a storied 13 seasons as head coach of the Michigan State football program, Mark Dantonio announced his decision to retire on Tuesday, Feb. 4. Dantonio finishes his career with a record of 114-57 in East Lansing, 132-74 in 16 seasons overall. During his time at the helm of the Spartan program, Dantonio compiled an impressive list of accomplishments including three Big Ten Championships, two victories in the Big Ten Championship Game, victories in the 2014 Rose Bowl and the 2015 Cotton Bowl, and an appearance in the 2015 College Football Playoff, finishing his career as the winningest football coach in Michigan State history.
Mike Tressel will serve as acting head coach while a search is conducted to find Dantonio's replacement.
"Today marks one of the most difficult decisions that I have ever made here at Michigan State," said Dantonio. "I would first like to thank our fans, alumni, and our administration; both past and present staff and especially our current and past players and coaches for all their support, hard work and dedication over these past 13 years. You have truly helped make my dreams come true.
"Every February since 2007, I have reset this program in preparation for the next year's challenges. After much reflection and discussion with my family, I feel that it is now time for change as we enter into a new decade of Michigan State Football.
"I have told our players on many occasions that 'Michigan State is bigger than any one person. Someday there will be someone else here talking to you from this podium.' That day has come.
"There have been so many amazing life moments in the last 13 years. When I reflect, I think of our Big Ten Championship games, our Big Ten Championships, the big games, the playoffs, the bowl wins, the moments, the milestones, the graduates, the NFL opportunities and finally, and perhaps most importantly, the relationships made.
"This job has always been a 24/7, 365 day-a-year position. There is no down time and it is filled with the demands and challenges of managing games, players, coaches, recruits, donors, staff, media, an enthusiastic fan base and competition at the very highest level. I will miss it all but feel the sacrifices that I have made away from my family must now become my priority at this time in my life.
"My plan is to stay on within the university and athletic department in a role involving special projects, especially transitioning our players, both current and incoming, to their next challenges.
"It has truly been an honor and a privilege to serve as the head football coach at Michigan State University. I will forever be a Spartan."
Beyond his record for most victories at MSU, Dantonio won more Big Ten Championships (three) and bowl games (six) than any other coach in school history, while also ranking first with 12 bowl appearances. His .639 (69-39) winning percentage in Big Ten games is a school record, while he stands tied for first in AP Top 25 finishes (seven) and second in Big Ten wins (69), home wins (67) and AP Top 25 wins (21).
"We are all very grateful for Mark's contributions to MSU, and not just on the football field," said MSU President Samuel L. Stanley Jr. M.D.  "I've continued to be impressed by Mark's leadership and dedication to his players.  His commitment to sportsmanship and academics is second to none.  He'll be remembered for these traits in addition to being our winningest coach for Spartan Football.   I know the entire Spartan nation joins me in wishing Mark the best in retirement, and I look forward to having him still engaged with the university moving forward."
"Mark Dantonio has provided outstanding leadership for the Spartan football program for the last 13 years," said MSU Athletic Director Bill Beekman. "As the all-time winningest coach in school history, he's raised the bar for Michigan State football. He's mentored young men and led them to success on the field, in the classroom and in life, while serving as a great ambassador for Michigan State University. As we begin the search for Mark's successor, we will look for the right fit who will continue the success at both the conference and national level."
Dantonio's tenure also places him among the best football coaches in Big Ten history. He is one of just seven Big Ten coaches to have at least six 10-win seasons on their resume (Bo Schembechler, Michigan; Jim Tressel, Ohio State; Joe Paterno, Penn State; Lloyd Carr, Michigan; Urban Meyer, Ohio State; Kirk Ferentz, Iowa) and one of four to have at least five 11-win seasons (Tressel, Paterno, Meyer). Dantonio ranks No. 11 in the Big Ten record books with 114 wins and No. 11 with 69 Big Ten victories. With MSU's win in the 2019 Pinstripe Bowl, Dantonio secured his sixth bowl victory, which ties him for fourth most in Big Ten history (Joe Paterno, 10; Barry Alvarez and Kirk Ferentz, 9; Hayden Fry and Lloyd Carr, 6).
A two-time Big Ten Coach of the Year (2010, 2013), Dantonio led Michigan State to Top 25 finishes seven times (2008: No. 24 in both polls; 2010: No. 14 in both polls; 2011: No. 10 USA TODAY/No. 11 AP; 2013: No. 3 in both polls; 2014: No. 5 in both polls; 2015: No. 6 in both polls; 2017: No. 15 AP/No. 16 USA TODAY). Dantonio's seven AP Top-25 finishes are tied for first in school history (Daugherty's teams posted seven Top-25 finishes during his 19-year tenure from 1954-72). MSU was the only school to finish in the top-six of the national polls from 2013-15 (No. 3 in 2013, No. 5 in 2014, No. 6 in 2015) and the 36 wins from 2013-15 marked the winningest three-year stretch in the history of the program.
The last decade is the greatest in Michigan State history based on total wins, as the Spartans posted a 92-40 (.697) record since the beginning of the 2010 season. During that span, MSU won six bowl games (2012 Outback, 2012 Buffalo Wild Wings, 2014 Rose, 2015 Cotton, 2017 Holiday, 2019 Pinstripe), three Big Ten Championships (2010, 2013, 2015) and three Big Ten Division titles (2011, 2013, 2015). The 92 wins were the seventh-most ever by any Big Ten team in a decade.
Dantonio made history by becoming the first Big Ten coach to record five 11-win seasons in a six-year span following MSU's 12-win campaign in 2015 (11 in 2010; 11 in 2011; school-record 13 in 2013; 11 in 2014; 12 in 2015). His five 11-win seasons are tied for third most in Big Ten history. Prior to Dantonio's arrival, MSU had not recorded an 11-win season in its history, and had just two 10-win seasons (1965, 1999).
Michigan State played in a school-record nine consecutive bowl games from 2007-15 (2007 Champs Sports Bowl, 2009 Capital One Bowl, 2010 Alamo Bowl, 2011 Capital One Bowl, 2012 Outback Bowl, 2012 Buffalo Wild Wings Bowl, 2014 Rose Bowl, 2015 Cotton Bowl, 2015 College Football Playoff Semifinal at Cotton Bowl). Dantonio extended his school record with his 12th bowl game appearance in 2019 in the Pinstripe Bowl; he finished 6-6 in bowl games at Michigan State, including a school-record four-game winning streak (2012 Outback, 2012 Buffalo Wild Wings, 2014 Rose, 2015 Cotton).
Since 2007, Dantonio has helped develop 10 different first-team All-Americans and 12 selections overall: RB Javon Ringer (2008); LB Greg Jones (2009-10); DT Jerel Worthy (2011); RB Le'Veon Bell (2012); CB Darqueze Dennard and P Mike Sadler (2013); S Kurtis Drummond (2014); C Jack Allen (2014-15); OT Jack Conklin (2015); and DE Kenny Willekes (2018). In addition, Dantonio has helped produce 41 first-team All-Big Ten selections.
Thirty-one Spartans have been chosen in the NFL Draft under Dantonio's watch, including three consecutive first-round selections from 2014-16. Dennard was a 2013 unanimous All-America selection and also won the Jim Thorpe Award, which is given annually to the nation's best defensive back. He was selected in the first round of the 2014 NFL Draft (No. 24 overall) by the Cincinnati Bengals to become the first Spartan under Dantonio to be chosen in the first round. Cornerback Trae Waynes was selected in the first round by the Minnesota Vikings at No. 11 overall in 2015. Michigan State became just the sixth school to have cornerbacks selected in the first round of the NFL Draft in consecutive years, joining Alabama (2012-13), LSU (2011-12), Miami-Florida (2005-06), Ohio State (1999-2001) and Notre Dame (1993-94). In 2016, offensive tackle Jack Conklin became the highest Spartan drafted under Dantonio as he was chosen No. 8 overall by the Tennessee Titans, and went on earn AP All-Pro honors as a rookie. The Spartans had six players drafted in 2012, the most in the Dantonio era, and five in 2016.
From the moment he stepped on campus, Dantonio was equally committed to success in the classroom. In his 13 seasons, a total of 238 players earned their undergraduate degrees. In addition, 219 Spartans earned Academic All-Big Ten honors, including nine Academic All-America selections (Blair White, 2009 second team; Sadler, 2014 first team, 2013 first team, 2012 second team, 2011 second team; Max Bullough, 2013 first team, 2012 second team; Cole Chewins, 2017 first team, 2018 second team). In addition, the football program posted its all-time high GSR (graduation success rate) of 90 percent in the most recent NCAA figures that were released in October 2019 (graduation rates for classes 2009-12).