News
Malik McDowell Selected by Seahawks in Second Round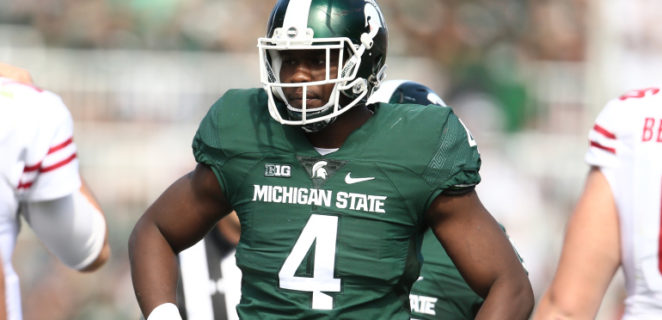 April 28, 2017
EAST LANSING, Mich. – Michigan State defensive lineman Malik McDowell was selected by the Seattle Seahawks in the second round (No. 35 overall) of the 2017 National Football League Draft on Friday, April 28.
McDowell, who announced his decision to forgo his senior season on Dec. 6, is the highest-drafted defensive lineman in the Mark Dantonio era (previous: Jerel Worthy, second round, No. 51 overall, 2012). He is the fourth player to be selected in the second round under Dantonio (2008: Devin Thomas, No. 34, New York Giants; 2012: Worthy, No. 51, Green Bay Packers; 2013: Le'Veon Bell, No. 48, Pittsburgh Steelers).
Michigan State has had at least once player chosen every year since the inception of the common NFL Draft in 1967.
"It's the craziest call I got, ever," said McDowell via teleconference. "I'm just here with the family. They're happy, we're all happy.
"I'm just coming in there to compete. That's all I can do and whatever works out from there, that's what it is."
McDowell, who was the only returning starter on the defensive line for the Spartans last season from the 2015 Big Ten Championship and College Football Playoff team, led the unit in 2016 with 34 tackles, including a team-best seven for losses (31 yards), in nine games. He missed the last three games of the season (Rutgers, Ohio State, Penn State) due to an injury he suffered at Illinois on Nov. 5.
The Detroit native was named first-team All-Big Ten by The Associated Press and earned second-team honors from the league's coaches and media. He was also a second-team All-American as recognized by SI.com and CBSSports.com.
The 6-6, 295-pound McDowell collected 90 tackles, including 24.5 for losses and 7.5 sacks, in 36 career games (23 starts).
A versatile athlete, McDowell started five games in 2016 at nose tackle and three at defensive end. Making his first career start at defensive end against Northwestern on Oct. 15, McDowell registered a career-high 11 tackles, including two for losses (11 yards) and a half sack (4 yards). All of McDowell's previous 19 starts came along the interior of the defensive line.
He recorded four tackles (0.5 for loss) in Michigan State's 36-28 win at No. 18 Notre Dame on Sept. 18, and tallied five stops, including a 9-yard sack, at Maryland on Oct. 22. McDowell tied his season high with two tackles for loss (3 yards) against No. 2 Michigan on Oct. 29.
A second-team All-Big Ten selection by both the coaches and media as a sophomore in 2015, McDowell ranked second on the team in tackles for loss (13 for 54 yards), tied for second in QB hurries (8) and third in sacks (4.5 for 38 yards) as he helped Michigan State win the Big Ten Championship and reach the College Football Playoff. He was also named first-team All-Big Ten by ESPN.com and picked up second-team honors from The Associated Press and Athlon Sports. McDowell was second among Spartan defensive linemen with 41 tackles and ranked second on the team with 146 production points during the regular season.
McDowell was named to the ESPN.com Big Ten All-Bowl Team after recording two tackles, including a 2-yard loss, vs. No. 2 Alabama in the College Football Playoff Semifinal at the Cotton Bowl Classic. He racked up 25 production points in MSU's regular-season finale against Penn State, as he recorded a 10-yard sack and a 13-yard interception return for a touchdown.
McDowell posted career highs in tackles (eight) and tackles for loss (4.5 for 14 yards) in MSU's 24-7 win over Maryland to earn Big Ten Defensive Player of the Week honors. McDowell's 4.5 tackles for loss were the eighth-best single-game total in MSU history and the second most by a Big Ten player in 2015 (Dean Lowry, Northwestern, six vs. Nebraska). McDowell also was credited with a half sack (2 yards) and forced fumble against the Terrapins. McDowell also had multiple tackles for loss games against Rutgers (2 for 11 yards) and Purdue (2 for 7 yards) while recording one sack each during those contests.
One of four true freshmen to letter for the Spartans in 2014, McDowell was named a Freshman All-American by the Football Writers Association of America and was also selected to the ESPN.com and BTN.com Big Ten All-Freshman Teams. He finished his first season with 15 tackles, including 4.5 for losses (21 yards) and 1.5 sacks (15 yards). McDowell earned the start in the 2015 Cotton Bowl Classic victory over No. 4 Baylor and recorded a 1-yard tackle for loss against the Bears.
The NFL Draft continues Friday night in Philadelphia with the third round and concludes on Saturday with the fourth through seventh rounds beginning at 12 p.m.