News
Kirk Cousins Selected to Play in NFL Pro Bowl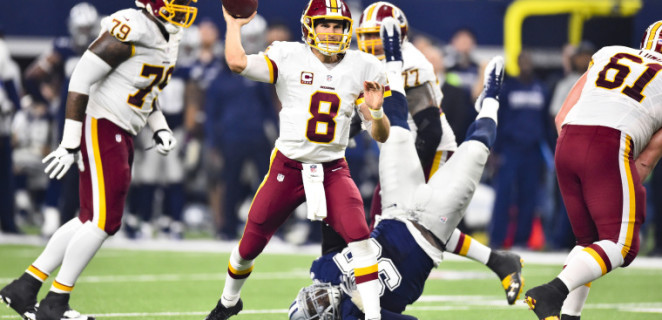 Jan. 26, 2017
EAST LANSING, Mich. – Former Spartan Big Ten Champion quarterback Kirk Cousins of the Washington Redskins has been selected to play in the 2017 Pro Bowl, the NFL announced this week. Cousins replaced Aaron Rodgers of the Packers on the NFC roster.
Cousins, who just completed his fifth year with the Redskins, once again ranked among the NFL leaders this season in passing yards (third with 4,917), passing yards per game (third with 307.3 ypg), pass completions (third with 406), pass attempts (sixth with 606), completion percentage (eighth at .607) and touchdown passes (13th with 25). He registered career highs and set franchise single-season records for most passing yards (4,917), completions (406) and attempts (606). The 4,917 passing yards were the 15th most in a single season in NFL history.
The native of Holland, Michigan, started all 16 games for the Redskins and became just the fourth QB in Redskins history to start every game in back-to-back seasons. He tied his own team record with seven 300-yard passing games and had two 400-yard passing games (career-high 458 vs. Cincinnati in Week 8; 449 vs. Dallas in Week 12). The 458 yards vs. Cincinnati and the 449 vs. Dallas were the second- and third-most passing yards ever in a single game by a Washington quarterback. Cousins helped lead Washington to the No. 2 passing offense and No. 3 total offense in the NFL.
In his five-year NFL career, Cousins has thrown for 12,113 yards and 72 touchdowns in 46 games, including 41 starts (32 consecutive), all with the Redskins. He owns the franchise record for most 300-yard passing games (18) and ranks among Washington's all-time leaders in completions (fifth with 1,025), passing yards (sixth with 12,113) and touchdown passes (sixth with 72). Since 2015, he is tied with Aaron Rodgers and Matt Ryan for the most games (30) with a touchdown pass in the regular season.
Cousins, a three-time team captain, recorded a 27-12 record as the starting quarterback for the Spartans from 2009-11. He holds the all-time record at Michigan State for most completions (723) and highest pass efficiency rating (146.1) and ranks second in passing yards (9,131), passing touchdowns (66), total offense (9,004) and completion percentage (.641). He helped lead the Spartans to the 2010 Big Ten Championship, the 2011 Legends Division title, and a victory in the 2012 Outback Bowl over Georgia.
The 2017 Pro Bowl will be held at Camping World Stadium in Orlando, Florida, on Sunday, Jan. 29 at 8 p.m. The game will be televised on ESPN.