News
Kirk Cousins Delivers Michigan State University Commencement Address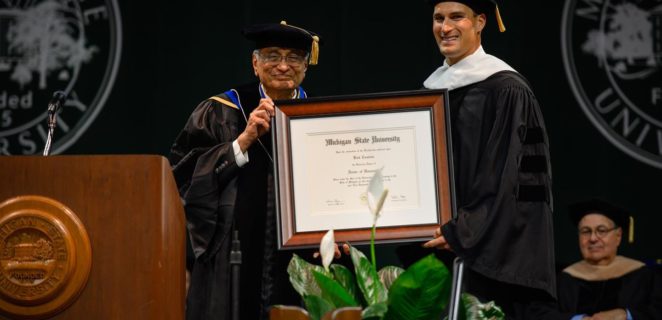 EAST LANSING, Mich. – Former Spartan great Kirk Cousins delivered the commencement address at Michigan State University's undergraduate convocation on Friday afternoon at the Breslin Center.
A four-time Academic All-Big Ten selection who graduated from MSU with a bachelor's degree in kinesiology in December 2011, Cousins received an honorary doctorate of humanities.
"Remember as you move forward, it's who, not what, that counts the most," Cousins said as he wrapped up the main points of his address. "Don't just deliver, over deliver; see life through a window, not a mirror; and choose to be a great decision maker. Do those four things, while enjoying the journey along the way, and if my life is any example, you'll have plenty of good days ahead.
Following his speech, Cousins met with reporters to talk about his experiences at Michigan State.
"It's nice to talk to an audience where I can say I've been in their shoes," said Cousins. "I've been through some things since leaving, and hopefully I can give them some counsel. But ultimately, this school will have prepared them well for what they're going to face going forward.
"What does it mean to be a Spartan? It's hard to encapsulate into a short answer with a few words. I mean, it's the foundation of where my life has gone. When you look at who I was as an 18-year-old when I arrived on campus in 2007, to where my life is now, I think that sums it up. Michigan State was the springboard and the place to stand from which anything I accomplish going forward, I'll have to look back and say it all started at Michigan State."
Cousins has played seven seasons in the NFL and threw for 4,298 yards and 30 touchdowns in his first year with the Minnesota Vikings in 2018. He has passed for 20,504 yards and 129 touchdowns during his career, including 73 starts at quarterback, and earned Pro Bowl honors in 2016 while playing with Washington.
One of only two three-time captains in Michigan State history, Cousins helped lead Michigan State to the 2010 Big Ten Championship during his junior season and the 2011 Big Ten Legends Division title as a senior. He also helped Michigan State defeat Georgia in the 2012 Outback Bowl as the Spartans finished No. 10 in the final coaches' poll.
Cousins is MSU's all-time leader in pass completions (723) and passing efficiency (146.1 rating), and ranks second in the school record books in passing yards (9,131), passing touchdowns (66) and wins by a starting quarterback (27). He set a Spartan single-season record with 25 passing touchdowns in 2011 as MSU won 11 games for the second consecutive season.
A finalist for the Big Ten Player of the Year as a senior, he was named the 2011 College Football Senior Class Award Winner and was a member of the National Football Foundation Scholar-Athlete Class.