News
Kenny Willekes Selected by Minnesota Vikings in Seventh Round of NFL Draft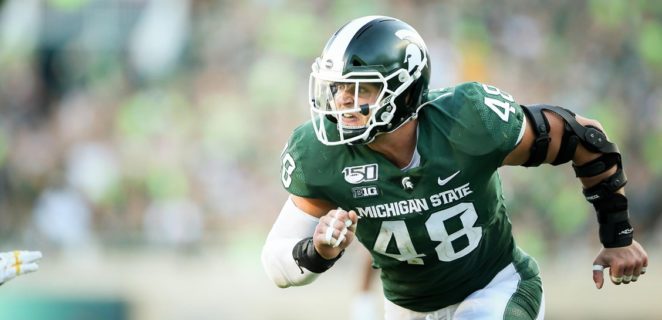 EAST LANSING, Mich. – Michigan State All-American defensive end Kenny Willekes was selected by the Minnesota Vikings in the seventh round (No. 225 overall) of the 2020 National Football League Draft on Saturday, April 25.
A two-time first-team All-Big Ten selection, Willekes finished his Spartan career ranked No. 1 in school history with 51 tackles for loss and third with 26 sacks. He also earned second-team All-America honors twice from the Walter Camp Football Foundation and was a first-team All-America choice by The Athletic in 2018 after he was named the Big Ten Defensive Lineman of the Year as a junior with a league-leading 20.5 tackles for loss.
The high-motor defensive end recorded 229 career tackles, fourth-most ever among Spartan defensive linemen, and played in 40 career games, including 38 starts and 31 consecutive to close out his career. He also compiled five fumble recoveries, four forced fumbles and four pass break-ups.
A 2019 Spartan graduate with a degree in chemistry, Willekes earned a scholarship in the spring of 2017 and hasn't looked back since. He entered the program as a walk-on linebacker for the 2015 season but emerged as one of the top pass rushers in the nation during his time in East Lansing. Willekes' improbable journey came full circle on Dec. 9, 2019, when he was named the winner of the Burlsworth Trophy, which is awarded annually to the nation's best player who was a former walk-on.
Willekes led the team and ranked fifth in the Big Ten with a career-high 10.5 sacks as a senior in 2019 and became the first defensive player in program history to be voted the winner of the Governor's Award (team MVP) twice. He also led the team with 16.5 tackles for loss, tied for sixth in the conference, and tied his career high with 78 tackles, most among all Big Ten defensive lineman. Willekes capped his sensational Spartan career with nine tackles, including for 1.5 sacks, in MSU's win over Wake Forest in the New Era Pinstripe Bowl and was named to The Associated Press All-Bowl Team for his postseason performance.