News
Home
/
Uncategorized
/
Karen Sadler, Mark Dantonio Present Inaugural Mike Sadler Competitive Edge Award
Karen Sadler, Mark Dantonio Present Inaugural Mike Sadler Competitive Edge Award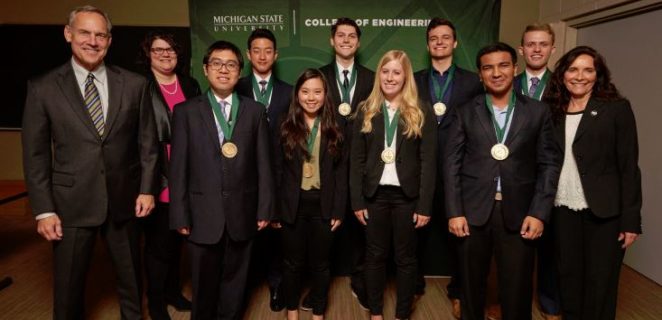 EAST LANSING, Mich. – Karen Sadler and Michigan State head football coach Mark Dantonio presented the inaugural Mike Sadler Competitive Edge Award to eight MSU applied engineering science seniors on Friday afternoon at a College of Engineering awards ceremony held at Anthony Hall.
The award is named in honor of the late Mike Sadler, who tragically passed away at the age of 24 in a car crash last July. Sadler, an All-American punter who helped the Spartans to a Big Ten Championship in 2013 and wins in the Rose Bowl and Cotton Bowl, was the school's first four-time Academic All-American.
A native of Grand Rapids, Michigan, Sadler graduated with a bachelor's degree in applied engineering sciences in May 2013 with a 3.97 grade-point average.
The Mike Sadler Competitive Edge Award will be presented annually to the Applied Engineering Sciences capstone team that strives to achieve the highest possible outcome in order to attain the next level of success. The winning project will be considered to have "flipped the field" with an innovative and creative solution that results in a competitive edge that not only solves the problem but distances itself from the competition.
"My main purpose in life now is to keep Mike's name and legacy alive," said Karen Sadler, Mike's mother. "So this award through the College of Engineering helps to do that. It's a huge award. It's something that he would be so proud and so humbled to have named after him, and I look forward to partnering with the College of Engineering, and all of Michigan State, but particularly the College of Engineering to carry forth the things that were important to him, and we'll do that through our foundation.
"To be here and see some of the awards that all of our MSU students were able to receive is inspiring," said Dantonio. "Mike sat in this room and received such an award. To have an award named after him, the Competitive Edge Award, it's just another great distinction for him, and I was just honored to be here and be a part of it."
ABOUT Mike Sadler (1991-2016)
On the field, Mike Sadler was a master of his craft and one of the greatest and most productive punters in program history. In the classroom, he achieved an ever rarer feat, becoming the first student-athlete at Michigan State to earn Academic All-America honors four times.
Sadler, a two-time first-team All-Big Ten selection (2012, 2013), finished his career ranked among MSU's all-time leaders in punts (second with 268), punting yards (second with 11,307) and punting average (sixth at 42.2). A valuable weapon on special teams, he placed 39 percent of his career punts inside the 20 (104-of-268) and 21 percent inside the 10 (56-of-268).
Sadler earned first-team Academic All-America honors in 2013 and 2014 and second-team accolades in 2011 and 2012. In addition to becoming MSU's first-ever four-time honoree, he also became just the third Spartan (Dean Altobelli, 1985-86; Steve Wasylk, 1992-93) and 34th Big Ten football player to earn first-team Academic All-America honors twice.
A member of the 2014 National Football Foundation Scholar-Athlete Class, Sadler was one of 17 finalists for the William V. Campbell Trophy, which is given to the nation's top scholar-athlete.
A native of Grand Rapids, Michigan, Sadler graduated with a bachelor's degree in applied engineering sciences in May 2013 with a 3.97 grade-point average. He received his master's degree in public policy in May 2015 with a 3.84 graduate GPA. Sadler was scheduled to begin law school at Stanford in the fall of 2016.
Sadler also was a four-time Academic All-Big Ten selection (2011-14) and a two-time Big Ten Distinguished Scholar (2012-13). He was presented the scholar-athlete award at the Spartan Academic Excellence Gala three consecutive years (2013-15) for having the highest GPA on the team for players who have reached at least junior academic status.
Sadler earned All-America status on the field during MSU's Big Ten and Rose Bowl Championship season in 2013, as he was named a first-team All-American by CBSSports.com and ESPN.com. Sadler ranked fourth in the Big Ten in punting with his 42.5-yard average and led the NCAA FBS with 24 punts downed inside the 10 and ranked tied for second with 33 inside the 20. An honorable mention All-Big Ten selection in 2014, he ranked seventh in the Big Ten in punting with his 41.2-yard average.
Sadler received the Big Ten Conference Medal of Honor in 2015.
Cutline on photo:
Second Row (L-R): Applied Engineering Sciences Director Laura Genik, Chang Joon Kim, Edward Okuniewski, Derek Stockman, and Daniel Feenstra
Front Row (L-R): Coach Mark Dantonio, Junyu Liu, Jasmine Lim, Rachel Gasparovich, Hanish Mehta, and Karen Sadler.