News
Josiah Price Earns Big Ten Conference Medal of Honor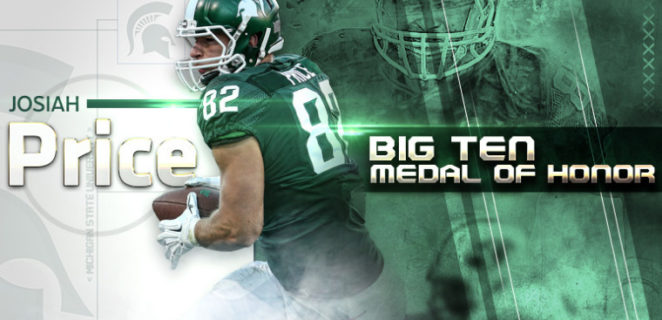 June 21, 2017
BIG TEN CONFERENCE MEDAL OF HONOR
(Presented to a male and female student-athlete at each conference institution for outstanding athletic and academic achievement)
MALE WINNER: Josiah Price (football)
Josiah Price was one of the most accomplished tight ends in Spartan football history, both on and off the field.
He finished his career with the most touchdown catches (21) by a tight end in Michigan State history, which also ranks fourth among all players in the school record book. Price's 104 career catches and 1,238 receiving yards also rank third most among Spartan tight ends. A two-time Big Ten Champion (2013, 2015), Price helped the Spartans to wins in the 2014 Rose Bowl and 2015 Cotton Bowl and a berth in the 2015 College Football Playoff. The four-year letterwinner played in 51 career games at MSU while making 25 starts.
Price closed out his record-setting Spartan career with a career-high 38 receptions for 387 yards and five touchdowns as a senior in 2016 to earn third-team All-Big Ten honors from the coaches for the second year in a row. His five TD catches were the most by a Big Ten tight end in the regular season and his 38 catches tied for second most by a Spartan tight end in a single season.
The Greentown, Indiana, native was also recognized throughout his senior season for his work off the field. He was named one of 11 semifinalists for the Wuerffel Trophy, known as "College Football's Premier Award for Community Service," and was selected as one of 30 nominees for the Senior CLASS Award. In addition, he was named a semifinalist for the William V. Campbell Trophy, which is awarded annually by the National Football Foundation to the nation's top scholar-athlete.
A four-time Academic All-Big Ten selection – one of just 25 in program history – Price graduated with a 3.65 grade-point average in December 2016 with a bachelor's degree in hospitality business. He also earned Big Ten Distinguished Scholar honors three times, and was a two-time recipient of the MSU Football Players Association Community Service Award (2015, 2016) and two-time nominee for the Allstate AFCA Good Works Team.
Price took full advantage of his educational opportunities at Michigan State, going on a mission trip to South Africa in 2013, studying abroad in Australia in 2015, and serving as one of the football team's representatives on the Student-Athlete Advisory Committee (SAAC). At the annual Spartan Academic Excellence Gala in 2016, Price was named winner of the Gwendolyn Norrell Community Service and Leadership Award after he served as the SAAC community outreach committee chair in 2015-16.
"This is a huge honor and one that I'm incredibly humbled by," said Price. "To be mentioned with some of the names that have previously won this award is truly special. It's nice to be recognized for accomplishments both on and off the field, but it was most certainly a team effort by everyone at Michigan State that put me in a position to succeed. I want to thank all of the coaches for pushing me, the academic staff for their support, and everyone that helped me get out in the community.
"As I look back at my time in East Lansing, I cherish the moments that our teams were able to accomplish, from all of the comeback wins to the Big Ten Championships to winning the Rose Bowl. I'm just incredibly grateful that I was able to be a part of something so special."
"Josiah Price has excelled really in all areas, from the field to the classroom to the community," said MSU head football coach Mark Dantonio. "He's taken advantage of his opportunities by not only traveling around the world, but helping people while he's there. It's important to him and his family to make an impact on other people's lives. It's nice to see he has received recognition for his work off the football field, but by no means is that why he did those acts of service in the community. It's just the type of person he is. In the classroom, he balanced school and football and became one of just 25 players in program history to earn Academic All-Big Ten honors four times. In addition to studying abroad as a junior, he also worked at an internship over the summer last year before his final year in college. He has put in the time to be successful in all facets of his life."
Price becomes the 23rd football player at MSU to win the Big Ten Conference Medal of Honor and the fifth under Dantonio (Blair White, 2010; Kirk Cousins, 2012; Mike Sadler, 2015; Jack Allen, 2016).
PAST WINNERS – BIG TEN CONFERENCE MEDAL OF HONOR MALE WINNERS:
2016-Jack Allen (football); 2015-Mike Sadler (football); 2014-Greg Wolfe (hockey); 2013-Jacob Jarzen (swimming and diving); 2012-Kirk Cousins (football); 2011-Brandon Eckerle (baseball); 2010-Blair White (football); 2009-Doug DeMartin (soccer); 2008-Drew Neitzel (basketball); 2007-Drew Stanton (football); 2006-Drew Stanton (football); 2005-Chris Hill (basketball); 2004-Steve Manz (track & field); 2003-Tyler Robinson (soccer); 2002-Josh Thornhill (football); 2001-Shaun Mason (football); 2000-Shawn Horcoff (hockey); 1999-Steve Schell (cross country/track & field); 1998-Tyler Harlton (hockey); 1997-Tyler Harlton (hockey); 1996-Brian Picklo (wrestling); 1995-Emilio Collins (wrestling); 1994-Steve Wasylk (football); 1993-Dave Smith (cross country/track & field); 1992-Stuart Hirschman (baseball); 1991-Walt Bartels (hockey); 1990-Walt Bartels (hockey); 1989-Danton Cole (hockey); 1988-Michael Davidson (baseball); 1987-Dean Altobelli (football); 1986-Don McSween (hockey); 1985-Carlton Evans (lacrosse); 1984-Kelly Miller (hockey); 1983-Michael Brown (swimming & diving); 1982-Morten Andersen (football); 1981-Jay Vincent (basketball); 1980-Mark Brammer (football); 1979-Gregory Kelser (basketball); 1978-Larry Bethea (football); 1977-Tyrone Willingham (football/baseball); 1976-Pat Milkovich (wrestling); 1975-Dennis Olmstead (hockey); 1974-Robert Cassleman (track & field); 1973-Kenneth Popejoy (track & field); 1972-Herb Washington (track & field); 1971-Thomas Muir (wrestling); 1970-Richard Saul (football); 1969-Allen Brenner (football); 1968-Dale Anderson (wrestling); 1967-Eugene Washington (football, track & field); 1966-Steve Juday (football); 1965-David Price (gymnastics); 1964-George (Pete) Gent (basketball); 1963-Richard Schloemer (fencing); 1962-Edward Ryan (football); 1961-William Reynolds (track & field/cross country); 1960-Stan Tarshis (gymnastics); 1959-Robert Anderegg (basketball); 1958-Robert Jasson (hockey); 1957-Selwyn Jones (track & field); 1956-Carl Nystrom (football); 1955-Kevan Gosper (track & field); 1954-Robert Hoke (wrestling); 1953-John Wilson (football); 1952-Orris Bender (wrestling); 1951-Everett Grandelius (football).