News
Former Spartan All-American Dick Tamburo Passes Away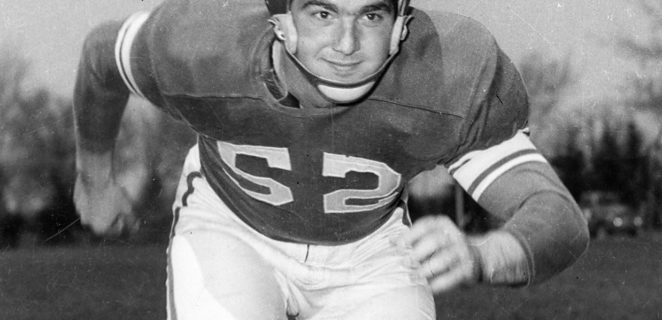 EAST LANSING, Mich. – Former Michigan State All-American center Dick Tamburo passed away on Monday, Feb. 24. He was 90 (1930-2020).
A three-year letterwinner (1950-52) under Hall of Fame Coach Biggie Munn, Tamburo earned first-team All-America honors and was named the team MVP as a senior in 1952 after leading the Spartans to the National Championship and an undefeated 9-0 record. He garnered All-America recognition from The Associated Press, Central Press, Newspaper Enterprise Association, International News Service, New York News, Football Digest and Paramount News.
Tamburo paved the way for Spartan backs and anchored an offensive line that helped Michigan State average 272.4 rushing yards per game – the third-highest single-season rushing average in MSU history. He also played linebacker on a defense that ranked No. 1 in the nation against the run (83.9 ypg). In Michigan State's 21-3 victory over No. 6 Notre Dame in Spartan Stadium, Tamburo recovered three Irish fumbles in the third quarter, one of which led to a touchdown.
During the three seasons that Tamburo lettered (1950-52), the Spartans posted a combined 26-1 record and won two National Championships (1951, 1952). He was named to the Michigan State Centennial Super Squad, Pre-Big Ten Era (1896-1996).
MSU Hall of Fame Coach Duffy Daugherty, who was an assistant coach during Tamburo's career, said in 1952 that "(Dick) is one of the roughest and smartest linebackers I've ever seen. But his most important asset is heart. Hence, the bigger and tougher the opposition, the bigger and tougher Tamburo is."
Tamburo played in several college all-star games, including the Senior Bowl in Mobile, Alabama; the East-West Shrine Game in San Francisco; and the College All-Star Game in Chicago. He was selected in the fourth round of the 1953 NFL Draft by the Cleveland Browns and briefly played in the Canadian Football League.
Following his playing career, Tamburo served two years in the Army from 1955-56. He then coached football at Arizona State and Iowa as an assistant before becoming a college administrator, which included stints as athletic director at Texas Tech, Arizona State and Missouri. He was inducted into the NACDA (National Association of Collegiate Directors of Athletics) Hall of Fame in 2006.
A native of New Kensington, Pennsylvania, Tamburo was an all-state selection and played on two Western Pennsylvania Interscholastic League championship teams. He graduated from Michigan State with a degree in police administration.
Service arrangements are pending.