News
Dean Look, Andre Rison Selected to Michigan Sports Hall of Fame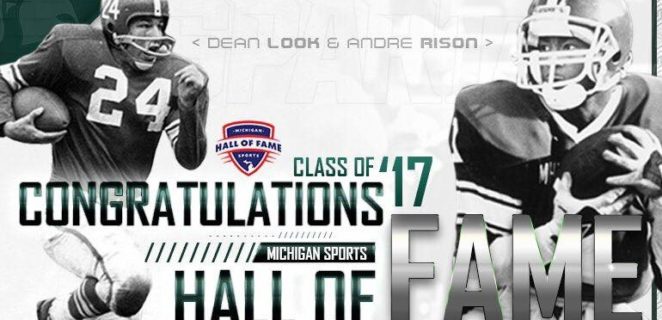 May 30, 2017
EAST LANSING, Mich. – Former Michigan State All-Americans Dean Look and Andre Rison have been selected to the Michigan Sports Hall of Fame Class of 2017. The announcement was made on FOX Sports Detroit on Tuesday evening prior to the Detroit Tigers telecast.
Look and Rison will be the 22nd and 23rd former Spartan players to be inducted into the Michigan Sports Hall of Fame. The 2017 induction ceremony is set for Friday, Sept. 15 at the Max Fisher Music Center in Detroit.
Look, who was inducted into the Michigan State Athletics Hall of Fame in 2007, played football under Coach Duffy Daugherty (1957-59) and baseball under Coach John Kobs (1958-59) during his playing days at MSU. The Lansing native was named the baseball team MVP in 1958 and was a first-team All-Big Ten selection after leading the team in six offensive categories.
After playing halfback his first two seasons, Look made the switch to quarterback in 1959. The moved paid off, as Look was the only player in the country to be named to UPI's Backfield of the Week three times. He led the team in total offense (875 yards), passing (785 yards), all-purpose yards (701) and scoring (24 points), was named team MVP, and earned first-team All-America honors by the Football Writers Association and Football News. Look was also named first-team All-Big Ten at quarterback. In addition, he was the team's leading punter in 1958 and 1959.
A first-round pick of the Denver Broncos of the AFL, Look opted to sign a professional baseball contact with the Chicago White Sox and made his major league debut in 1961. After his playing days, Look spent 29 years as an official in the NFL.
A four-year letterman for Coach George Perles from 1985-88, Rison closed out his career as Michigan State's all-time leader in receptions (146), receiving yards (2,992) and 100-yard receiving games (11). A two-time First-Team All-Big Ten selection (1986, 1988), Rison led team in receptions for three straight seasons. He was inducted into the MSU Athletics Hall of Fame in 2015.
The Flint, Michigan, native made his presence known as a true freshman in 1985 by ranking third on the team in receptions with 19 for 280 yards (14.7 avg.) and two touchdowns.
As a sophomore in 1986, Rison connected with quarterback Dave Yarema to establish career highs in receptions (54) and receiving yards (966). He finished second in the Big Ten in both receptions and receiving yards. His 966 receiving yards ranked sixth in the nation. His five TD catches also tied for the team lead. He produced four 100-yard receiving games: against Western Michigan (5 catches for 155 yards), Indiana (career-best 11 for 196), Northwestern (6 for 114) and Wisconsin (9 for 108).
As a junior in 1987, Rison had 34 catches for 785 yards (23.1 avg.) and five TDs while helping the Spartans to the Big Ten Championship, a 9-2-1 record and No. 8 national ranking in the final polls (Associated Press, United Press International and USA TODAY). His 23.1 yards per catch led the Big Ten and ranked second nationally. He accounted for 83 percent of MSU's TD catches (5 of 6), 66 percent of its receiving yards (785 of 1,194) and 47 percent of its receptions (34 of 72). Rison posted three 100-yard receiving games: against Notre Dame (5 for 137), Purdue (5 for 122) and Wisconsin (6 for season-high 162). He had two receptions for 91 yards in MSU's 20-17 victory over No. 16 USC in the 1988 Rose Bowl. His 55-yard grab from Bobby McAllister in the second quarter set up Lorenzo White's second rushing TD of the game as the Spartans built a 14-3 halftime lead. On a third-and-8 play in the fourth quarter, he again hooked up with McAllister — this time for a 36-yard gain — to help set up John Langeloh's game-winning 36-yard field goal.
As a 5-foot-11, 195-pound senior in 1988, Rison was named a first-team All-American by Gannett News Service after ranking second on the team with 1,045 all-purpose yards, averaging 21.8 yards on 48 touches. He caught 39 passes for 961 yards (24.6 avg.) and a career-best eight TDs. Rison led the Big Ten in receptions, TD catches and yards per catch. His 24.6 yards per catch ranked second in the nation. Rison accounted for 89 percent of MSU's TD catches (8 of 9), 64 percent of its receiving yards (961 of 1,500) and 45 percent of its receptions (39 of 87). He also matched his career best with four 100-yard receiving games, including three during the regular season (4 for 107 vs. Iowa; 4 for 107 vs. Illinois and 4 for 128 vs. Wisconsin). In his final game in a Spartan uniform, he had nine receptions for a career-high 252 yards and career-best three TDs in a 34-27 loss to Georgia in the 1989 Gator Bowl. Rison, who scored on TD grabs of 4, 55 and 50 yards from McAllister, was selected MSU's Gator Bowl MVP.
Rison still ranks among MSU's career leaders in receiving yards (second with 2,993), 100-yard receiving games (second with 11), yards per catch (third with 20.49 avg.), receptions (fifth with 146) and TD receptions (tied for fifth with 20).
Rison was selected by the Indianapolis Colts in the first round (No. 22 overall) of the 1989 NFL Draft and became a five-time Pro Bowl selection (1990, 1991, 1992, 1993 and 1997). In 1990, he was named First-Team All-Pro by AP, Pro Football Writers, Newspaper Enterprise Association, Pro Football Weekly and The Sporting News after recording 82 catches for 1,208 yards (14.7 avg.) and 10 TDs. Rison had 743 career receptions for 10,205 yards (13.7 avg.) and 84 TDs in 12 pro seasons (Indianapolis, 1989; Atlanta, 1990-94; Cleveland, 1995; Jacksonville, 1996; Green Bay, 1996; Kansas City, 1997-99; Oakland, 2000). He started 156 of 186 career NFL games.