News
Dantonio Post-Game Quotes: Spring Game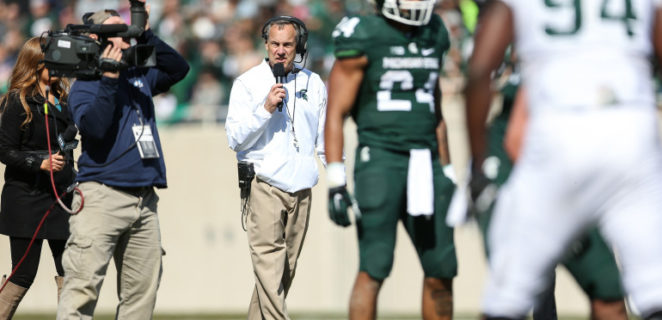 April 1, 2017
Michigan State head coach Mark Dantonio
Opening Statement …
First of all I want to thank all of the Spartan fans for coming out today, I thought it was a great crowd. Also had a great experience at our youth clinic that had over 1,100 young people, along with their families, so we had about 5,000 people out back at our practice facility. I thought it was a great day for our fans, for our players, and for our young fans.
With that being said, the focus here is on the football game, that's where our focus is. It's tough to evaluate the game from behind like that, but I saw some good things. I thought (Brian) Lewerke threw the ball effectively. Had two picks, but threw the ball downfield effectively. Had some nice throws. Had some great catches. Trishton Jackson obviously had a number of catches. I thought Justin Layne and Cam Chambers made a couple. As far as running the football, Madre London had a couple big runs, and (Gerald) Holmes was steady in there as well. But you have to be consistent in the game of football. Have to be able to play with a lot of power, have to be able to change direction and things like that. So as you watch the film defensive guys closing on it, offensive guys make plays, and there are about 1000 things for each position.
On the player draft vs this year's spring game format …
I think that you get more out of it like this from a coaching standpoint. There is a reason to do that. That's how we scrimmage in a lot of ways. I think the draft is also good, because it allows you to pick the players, and there is more of a game type of situation. There's just a little bit more of a flow to the game. But we lost a lot of seniors this year, and two guys go out early, so we lost numbers. And from that standpoint our numbers were a little down, still. You would have had guys with no backup plan one side or the other, and you didn't want to do that. We wanted to be able to work our twos in there with the ones, or what have you. To me it's always about trying to make it as competitive as we can. And our games are always competitive.
On having Hunter Rison on campus early …
Hunter has had a nice spring. I think he's very functional. To me, functionality is a big part of everything. You have to be able to know what to do, then take steps forward in that capacity. He's able to do that. He can get on the field, he can catch the football — almost made a great catch on a corner route. He runs crisp routes, and he's a competitor. So he's going to show up for us next year on game day. Without question.
On finally being able to get out and play …
I'm not going to talk about the issues at hand, but when things happen negatively for a group of people, they normally bind together, and they go forward. And that's what our football team has done. That's what we have done every single practice this spring. We're 13 through, we have two more practices. We get a lot out of those practices. I think we've had a good, solid spring. We've played a lot of people — a lot of people have gotten reps. That's a big positive for us. We're playing a lot of live, we're doing a lot of things live.
On the quarterback situation …
Well you saw our quarterbacks out there today that we're playing. We've had our quarterbacks playing in there. But I do think he (Brian Lewerke) is much improved. He's still going to mess up signals, call the wrong play when it's supposed to be a different play — which are elementary mistakes that he will get past. But I think he has progressed very well. He has a great ability to run the football, too, I feel. He's a good athlete, he's poised back there. Every time he takes a step where there are people there, he's going to get better and better. There's always a little bit of a learning curve, but I think he's a good player. I also think some of our other quarterbacks are good players, but right now he's the guy.
On walk-ons being awarded scholarships …
We awarded Kenny Willekes a scholarship, and Kenny sort of reminds me a little but of a Marcus Rush. He can play for us. This is his third year. He's a guy that is going to go 100 miles per hour. He's a good athlete. He's made plays for us, so we took the opportunity to give him one. Also, Collin Lucas and Dillon Alexander are guys that have been put on a bid here, as well. Collin Caflisch, as well. So we have given some scholarships to those guys for this semester. Then they have to fight it out in the fall. But we have given them through this spring. We're always going to take care of our guys who play the best, systematically.
On any changes in the coaching staff …
Mark Snyder is coaching the defensive ends. I felt like at this point in time we needed to take our defensive line because of the player/coach ratio. What you have right now is you have so many run/pass option plays. Where there's a run/pass conflict. Those outside players will start to be coaches differently than those inside players. I felt like we needed to go from a 15 to 1 ratio to more of a 7 to 1 ratio. What we're seeing now from a defensive perspective demands them to be coaches differently. So we made that transition, and (Mike) Tressel is back coaching the linebackers.
On if the team was more excited to play in this spring game than some before …
I think we've come out every year in spring games and played hard. So I can't really say that. We've come out every day in practice, and we've taken a very workman's type attitude towards it. We've been working at this since February 25th, maybe, so we've been at it for a while. That's a positive thing. So now if you work at it you're going to get better. So that's how you do it, and you challenge the players every day.
On the players that sat out today …
We don't talk about injuries and obviously we're not going to talk about any other suspensions.
On why it was important to play this game …
I think we needed to move forward. I talked to our players the other day about how we're going to step into the light. Time marches on. This is a big program, and it's a serious situation, but we need to move forward. Our players deserve it, and our fans deserve it. There's always a lot of excitement and anticipation when you come out here in the spring. It's something that's always needed, because there's something more on the table when it's in front of people.