News
BRIAN ALLEN INVITED TO NFL SCOUTING COMBINE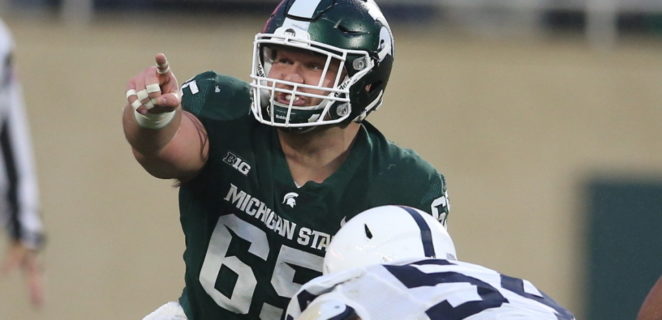 Feb. 6, 2018
EAST LANSING, Mich. – Former Michigan State center Brian Allen has been invited to the 2018 NFL Scouting Combine, scheduled for Feb. 27-March 5 at Lucas Oil Stadium in Indianapolis.
The NFL Scouting Combine (National Invitational Camp) is organized and operated by National Football Scouting, Inc. More than 600 NFL personnel, including head coaches, general managers, scouts and medical staff representing all 32 teams, will attend the Scouting Combine and evaluate more than 300 of the nation's top college players eligible for the upcoming 2018 NFL Draft through on-field drills, physical testing, psychological exams, as well as formal and informal interviews.
To track official results from the players' workouts, follow at www.nfl.com/combine. In addition, NFL Network and NFL.com will have live coverage of the combine March 2-5 (Friday-Monday) beginning at 9 a.m. ET each day. Allen is scheduled to perform on-field testing on Friday, March 2.
Michigan State has sent 44 participants to the NFL Combine in MSU head coach Mark Dantonio's tenure. Allen is the third offensive lineman under Dantonio to earn an NFL Combine invitation (Jack Allen and Jack Conklin in 2016).
The 2018 NFL Draft is set for April 26-28 at AT&T Stadium in Arlington, Texas.
NFL SCOUTING COMBINE: MSU PARTICIPANTS (44) UNDER COACH DANTONIO – BY YEAR
2008 (4): RB Jehuu Caulcrick, TE Kellen Davis, WR Devin Thomas, S Nehemiah Warrick
2009 (3): QB Brian Hoyer, RB Javon Ringer, S Otis Wiley
2010 (2): PK Brett Swenson, WR Blair White
2011 (4): WR Mark Dell, TE Charlie Gantt, LB Greg Jones, CB Chris L. Rucker
2012 (6): RB Edwin Baker, QB Kirk Cousins, WR B.J. Cunningham, WR Keshawn Martin, S Trenton Robinson, DT Jerel Worthy
2013 (4): CB Johnny Adams, RB Le'Veon Bell, DE William Gholston, TE Dion Sims
2014 (4): LB Max Bullough, CB Darqueze Dennard, WR Bennie Fowler, S Isaiah Lewis
2015 (6): S Kurtis Drummond, LB Taiwan Jones, RB Jeremy Langford, WR Tony Lippett, WR Keith Mumphery, CB Trae Waynes
2016 (7): C Jack Allen, WR Aaron Burbridge, DE Shilique Calhoun, OT Jack Conklin, QB Connor Cook, DT Joel Heath, DL Lawrence Thomas
2017 (3): LB Riley Bullough, DL Malik McDowell, S Montae Nicholson
2018 (1): OL Brian Allen
NFL SCOUTING COMBINE: MSU PARTICIPANTS (44) UNDER COACH DANTONIO – BY POSITION
QB (3): Brian Hoyer (2009), Kirk Cousins (2012), Connor Cook (2016)
RB (5): Jehuu Caulcrick (2008), Javon Ringer (2009), Edwin Baker (2012), Le'Veon Bell (2013), Jeremy Langford (2015)
WR (9): Devin Thomas (2008), Blair White (2010), Mark Dell (2011), B.J. Cunningham (2012), Keshawn Martin (2012), Bennie Fowler (2014), Tony Lippett(2015), Keith Mumphery (2015), Aaron Burbridge (2016)
OL (3): C Jack Allen (2016), OT Jack Conklin (2016), OL Brian Allen (2018)
TE (3): Kellen Davis (2008), Charlie Gantt (2011), Dion Sims (2013)
DE (6): DT Jerel Worthy (2012), DE William Gholston (2013), DE Shilique Calhoun(2016), DT Joel Heath (2016), DL Lawrence Thomas (2016), DL Malik McDowell(2017)
LB (4): Greg Jones (2011), Max Bullough (2014), Taiwan Jones (2015), LB Riley Bullough
DB (10): S Nehemiah Warrick (2008), S Otis Wiley (2009), CB Chris L. Rucker (2011), S Trenton Robinson (2012), CB Johnny Adams (2013), CB Darqueze Dennard (2014), S Isaiah Lewis (2014), S Kurtis Drummond (2015), CB Trae Waynes (2015), S Montae Nicholson (2017)
PK (1): Brett Swenson (2010)
Brian Allen BIO
In his first year as the full-time starting center in 2017, Allen anchored a young Spartan offensive line and helped lead MSU to a 10-3 overall record and No. 15 final ranking in The Associated Press Poll. He was the highest graded Spartan offensive lineman and led the team in snaps (977), knockdowns (98) and dominators (23). Allen finished the regular season ranked the No. 6 center in the FBS by Pro Football Focus. A four-time Pro Football Focus Big Ten Team of the Week honoree, Allen was also named Spartan Offensive Lineman of the Week on four occasions.
The Hinsdale, Illinois, native started 38 games during his four seasons in East Lansing, including a team-best 28 consecutive to close out his career, as part of a total of 51 games played. A three-time All-Big Ten honoree, he earned second-team honors from the coaches and media at center in 2017, and was also a second-team All-Big Ten selection at guard as a junior (media) in 2016 and as a sophomore in 2015 (coaches and media).
In addition to his impressive on-field resume, Allen was just as successful in the classroom. He was named a semifinalist in 2017 for the William V. Campbell Trophy, which is widely known as the "Academic Heisman," and also the National Football Foundation Scholar-Athlete Class. A three-time Academic All-Big Ten selection, Allen is an economics major with a 3.24 GPA.
Voted a team captain in 2017, Allen helped lead the Spartan senior class to a 36-16 record from 2014-17, including two bowl wins (2014 Cotton, 2017 Holiday), one Big Ten Championship (2015) and one College Football Playoff appearance (2015). The 36 wins are sixth most by a class in school history. Allen is ranked the No. 5 center in the 2018 NFL Draft class by CBS Sports and was recently named one of the top 10 centers in the upcoming NFL Draft by ESPN analyst Mel Kiper Jr.