News
Bachie, Willekes Named to Bednarik Award Watch List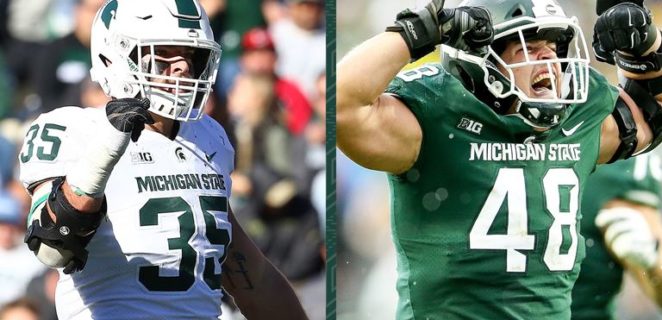 EAST LANSING, Mich. – Michigan State linebacker Joe Bachie and defensive end Kenny Willekes have been named to the 2019 Bednarik Award Watch List, the Maxwell Football Club announced on Monday.
The Bednarik Award has been presented to the College Defensive Player of the Year since 1995. Chuck Bednarik, former standout at Penn and with the Philadelphia Eagles, is a member of both the College Football Hall of Fame's Class of 1969 and the NFL Hall of Fame's Class of 1967.
Bachie, who has started 26 consecutive games at middle linebacker, has been named to numerous preseason All-America lists, including first-team recognition from Athlon Sports and Phil Steele. He has led the Spartans in tackles the past two seasons (100 in 2017; 102 in 2018) and last year he became the third Spartan middle linebacker under Mark Dantonio, joining Greg Jones and Max Bullough, to earn first-team All-Big Ten honors.
A consistent playmaker, Bachie had 8.5 tackles for loss, five pass break-ups, three forced fumbles, one interception and one fumble recovery during his junior campaign. He earned the Downtown Coaches Club Award for the most outstanding Spartan player on defense.
The Brook Park, Ohio, product started all 13 games at middle linebacker as a sophomore for the Spartans in 2017. He led the team in tackles (100; 7.7 avg.) and was named the recipient of the 2017 Governor's Award, which is given annually to the program's most valuable player as voted on by the team. He was the first Spartan sophomore to win the Governor's Award since quarterback Drew Stanton in 2004.
In 32 career games, Bachie has 214 tackles, 19.0 tackles for loss, 4.5 sacks, four interceptions, seven pass break-ups, five forced fumbles and two fumble recoveries. He previously was named to the Lott IMPACT Trophy Watch List in May.
After leading the Big Ten in 2018 with 20.5 tackles for loss, Willekes was named the 2018 Smith-Brown Big Ten Defensive Lineman of the Year and a first-team All-American by The Athletic. Willekes became the second Spartan to win the award (Shilique Calhoun in 2013), which is named after MSU's Bubba Smith and Penn State's Courtney Brown and given to the Big Ten's most outstanding defensive lineman, and was the first Spartan defensive end to earn first-team All-America honors since Robaire Smith in 1998. Willekes was also named to the All-Big Ten First Team by the coaches, media, Associated Press, Athlon Sports, ESPN.com, Phil Steele and Pro Football Focus, and earned second-team All-America honors from the Football Writers Association of America (FWAA), Phil Steele, Sporting News and Walter Camp Football Foundation.
Willekes, who entered the program as a walk-on linebacker for the 2015 season, has emerged as one of the top pass rushers in the nation. Unfortunately, he suffered a broken fibula in the Redbox Bowl against Oregon, but he will be fully recovered in time for the 2019 season.
A 6-foot-4, 260-pound native of Rockford, Michigan, Willekes collected a league-best 20.5 tackles for loss in 2018, good for second most in a Spartan single season and eighth most in the FBS in 2018. He also led the Spartans with 8.5 sacks, which ranked tied for fifth in the Big Ten. He registered a career-high 78 tackles to rank first among all defensive lineman in the nation, including a career-high 13 against Ohio State on Nov. 10.
According to Pro Football Focus, Willekes led all edge rushers in the FBS with 23 quarterback hits and ranked sixth with 39 QB hurries. Willekes was also the highest-ranked Big Ten edge rusher with a 90.3 grade.
At the 2018 Spartan Football Awards banquet on Nov. 25, Willekes was named the recipient of the Governor's Award (MVP), becoming the first Spartan defensive end to win the honor since its inception in 1931.
A chemistry major, Willekes earned a scholarship in the spring of 2017 and hasn't looked back since. He is MSU's active leader in sacks (10th in school history with 15.5) and tackles for loss (ninth in school history with 35.0). He ranks among the active career leaders in the FBS in tackles for loss (second at 1.30 per game).
Willekes has been honored on several preseason All-America teams, including first-team accolades from Athlon Sports, Phil Steele, Sporting News and Street & Smith's.