News
2018 Spring Game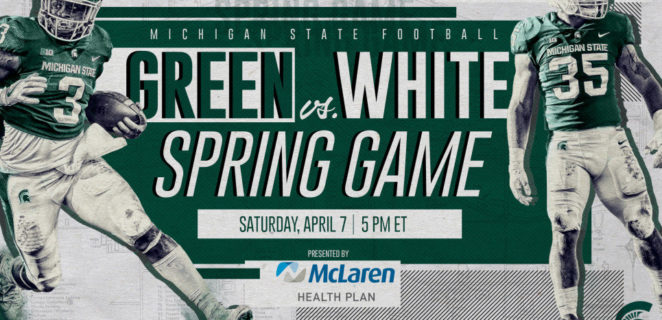 Feb. 19, 2018
EAST LANSING, Mich. – Michigan State's annual Green-White spring game, presented by McLaren Health Plan, has been scheduled for Saturday, April 7 at 5 p.m. in Spartan Stadium. The game will be broadcast live on BTN and BTN2Go.
Additional details regarding the spring game and youth clinic will be released at a later date.
The Spartans will begin spring practice on Tuesday, Feb. 27.
After finishing the 2017 campaign with a 10-3 record and a No. 15 ranking by The Associated Press, Michigan State is looking to use the momentum built from last year into another successful season in 2018. The Spartans capped the greatest single-season turnaround in school history with a dominating 42-17 win over No. 18 Washington State in the Holiday Bowl to record their sixth double-digit win season in the last eight years.
Season ticket renewals for the upcoming 2018 season are currently underway through the Spartan Ticket Office. To renew tickets online, visit msuspartans.com/tickets, then select "Season Renewals" under the "Buy Tickets" menu to log in. Fans can also call the Spartan Ticket Office locally at 355-1610 or outside the Lansing area at 1-800-GO-STATE (1-800-467-8283). The Spartan Ticket Office, located at 1855 Place (550 S. Harrison Rd., East Lansing, MI 48823), is open weekdays from 10 a.m. to 5 p.m.
MSU's challenging seven-game home schedule features five Big Ten matchups, including Michigan on Oct. 20 and Ohio State on Nov. 10. The Spartans also host Northwestern for Homecoming on Oct. 6, Purdue on Oct. 27, and Rutgers on Nov. 24.
Michigan State opens the 2018 slate on Friday, Aug. 31 against Utah State. The Spartans will also take on Central Michigan in nonconference action on Sept. 29.
Season ticket prices for 2018 will remain the same as the previous two years ($343 each, $245 for recent MSU graduates). The season ticket renewal deadline is May 1. Seat premium prices, as part of the Scholarship Seating (zones A-F) and premium seating areas (Huntington Club, Sideline Club, Huntington Club suites), are also unchanged; however, due to the Tax Cuts & Jobs Act, seat premiums are no longer tax deductible.
Along with season ticket renewals, current season ticket holders can also renew requests for parking for the 2018 season. The price for season parking will also remain the same at $210 ($30 per game).
New season ticket sales for fans who are not current season ticket holders will begin on June 13, 2018, offered first to Spartan Fund donors in priority order. Sales of MSU student season admissions will begin in April.
Michigan State has one of the most dedicated fan bases in the nation, as MSU ranked among the NCAA Top 25 leaders in football attendance in 2017 for the 62nd straight year. The Spartans were No. 19 in the NCAA in total attendance with 507,398 fans for seven home games. In addition, the Spartans also ranked No. 19 with an average of 72,485 fans per game.
With more than 50 letterwinners returning in 2018, including a projected 19 starters on offense and defense, the Spartans are ranked in the Top 25 in several "way-too-early" preseason polls, including CBSSports.com (No. 5), The Athletic (No. 7), ESPN (No. 9), Athlon Sports (No. 10), USA TODAY (No. 10), SI.com (No. 12) and Sporting News (No. 16).
Michigan State is in the midst of its winningest decade in school history based on total wins, as the Spartans are 78-28 (.736) since the beginning of the 2010 season. During that span, MSU has won five bowl games (2012 Outback, 2012 Buffalo Wild Wings, 2014 Rose, 2015 Cotton, 2017 Holiday), three Big Ten Championships (2010, 2013, 2015) and three Big Ten Division titles (2011, 2013, 2015). MSU's .736 winning percentage this decade is second best in school history (.766 in 1950s). The Spartans' 78 victories since 2010 rank tied for 10th most in the FBS, and the 49 wins since 2013 are tied for ninth most.
Mark Dantonio, who is entering his 12th season as head coach, won his 100th game as head coach at Michigan State with the victory in the Holiday Bowl and is one of just six coaches in Big Ten history to record at least six 10-win seasons. He is 100-45 overall in 11 seasons at Michigan State. The second-winningest coach in school history, Dantonio is nine victories shy from tying Duffy Daugherty, who coached at MSU from 1954-72, for the most wins in school history (109).