News
2017 Spring Game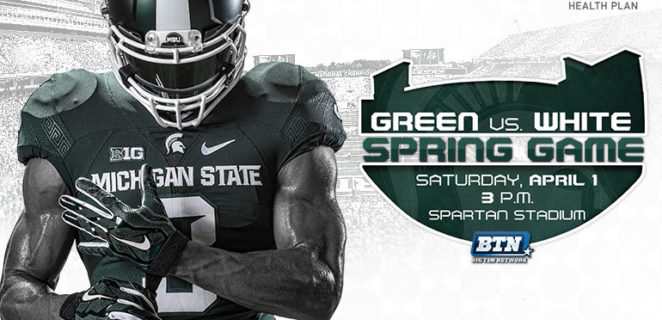 Michigan State's annual Green-White spring game, presented by McLaren Health Plan, has been scheduled for Saturday, April 1 at 3 p.m. in Spartan Stadium. The game will be broadcast live on BTN and BTN2Go.
The Spartans will begin spring practice on Saturday, Feb. 25 and will conclude their 15 allotted practices with the spring game on April 1st.
The MSUFPA will be hosting a gathering spot for our members on Saturday, April 1st. This will be a great opportunity for all former players and families to get together and celebrate the conclusion of spring ball! This year's gathering will take place in the Varsity S Club room. The Club is located on the second floor of Spartan Stadium, room 276. Entrances to the doors are between Gates F & E on the West side of the Stadium. This will be open as a meeting place for any MSUFPA member, along with other sport letter winners. Space may be limited.  Food and beverages can be purchased in the concourse like any football Saturday. Please note that alcoholic beverages are prohibited on campus before and after the spring game. This will be enforced. Also, please be aware that there will be a track meet taking place around the same time as the Spring Game. Please give yourself ample time to find a parking spot around campus.