News
Bachie, Lewerke and Willis Named 2018 Team Captains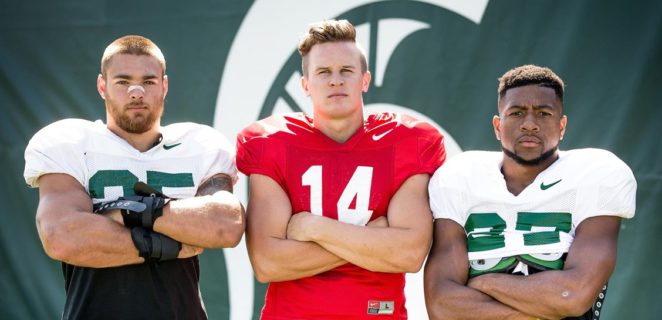 EAST LANSING, Mich. – The Michigan State football team wrapped up preseason camp on Thursday after three weeks of practice for the upcoming season. The No. 11/12 Spartans will take the next two days off before reporting back to campus on Sunday afternoon to begin game preparations for the Friday, Aug. 31 season opener against Utah State in Spartan Stadium.
Following Thursday's practice, MSU head coach Mark Dantonio announced the 2018 captains to the team – junior linebacker Joe Bachie, junior quarterback Brian Lewerke and senior safety Khari Willis.
Below are quotes from Dantonio and the three captains:
Head Coach Mark Dantonio:
Opening Statement…
It's our 12th camp, we just finished up. I thought we had a very, very good camp. Really, when you look at the scrimmages we've had, we had well over 400 plays in the stadium, so we've got a good foundation of playing live football, where our coaches step back and allow our players to play, which I think is as close as we can get to the game situations. We picked our captains.
On the captains for 2018…
Our captains are Brian Lewerke, Khari Willis, and Joe Bachie. I think they'll do an outstanding job. We'll rotate one of our leadership group individuals into every game to be the fourth captain like we've done in the past, but I think it's a great representation of our football team, and I think they'll do a great job.
On Weston Bridges…
Weston bounced back after two years of not being in football, late in his senior year he got hurt. He's been a long time outside football and I thought he attacked the situation. He was physical, he ran with a burst, and as I said earlier, he reminds me a bit of Jeremy Langford in terms of how he moves.
On breaking camp, naming captains and looking forward…
It's always exciting to go to camp and then you hit those 10, 11, 12, 13, 14 days and it starts to become a grind. Just when you can't take it anymore, you move to the next thing. It's game week coming on Saturday and I'm sure we'll all be excited next Friday night.
On changes to leadership council by adding a freshmen and sophomore group…
We voted on those guys as well and we're always trying to build leadership and grow leadership and I think to do that you need to have them around other leaders. They have an opportunity to be there, they don't have as big of a voice, they're just sort of there on the sidelines a little bit, I just thought it was a way for them to be inclusive. We have such a young football team and there are always young players to lead, and they need to understand which direction we're trying to go, and I think it's an opportunity to grow leadership.
On importance of leadership being spread out…
Hayden Fry (University of Iowa Head Coach 1979-1998) used to say this: 'You need a bell cow at each position group, you need a guy that sort of pulls the load to some extent and leads from within that group.' We focus on that as well. If a guy's not represented in the Eagle Group and maybe he's outside of it we bring him along as well.
On Joe Bachie…
I think Joe Bachie's an outstanding athlete, he's proven that he's a very good leader and he was a great leader last year as a sophomore. He has great ball skill, he's a multi-talented athlete having played numerous positions in high school, and numerous sports. I think that adds value to his game. I think he's excited to start the 2018 season.
Junior Linebacker Joe Bachie:
On being selected a captain…
It's an honor to know your team thinks of you so highly. You know they trust you to lead the team. It's an awesome achievement, but I'm not going to change the way I am because I'm a captain now. I'm just going to stay the way I am, that's why I got voted captain.
On what makes Brian Lewerke and Khari Willis good captains…
Brian controls the offense and he's got a couple sides to him that not everybody sees. You know he can take control of the team which is an awesome thing. Khari Willis, you heard his speech at the Big Ten Media Days, you know he has that element to bring to the team. They're both special guys and I'm excited to a captain with them.
On his style of leadership…
It all depends on who I'm talking to. Some guys you can't get on a certain way or they'll shut down for the day.
On the honor of being named captain as a junior alongside Brian Lewerke…
We got a bunch of returning guys and a lot of us got experience with who we had to play last year. We both had decent seasons and moving forward we knew we were probably going to be the starters again, so the team trusted us and now we are going to run with it this year.
On how they'll achieve their expectations as captains…
Yeah, we know what happened in '16 and '17. We know right from wrong, and all three of us have been there. Those two were with the playoff team in '15, so they've got experience with that and that's going to help us lead forward so we can all know the things you can do and the things you can't do.
Junior Quarterback Brian Lewerke:
On his style of leadership…
I'm a very personable human being. I think I can relate to anyone and I can create relationships with a lot of people and try to encourage them to do the best they can.
On how he feels about his team after boot camp…
I feel very comfortable. We have a great chemistry and it's been on display for a while now. I'm just very excited to see what we can do.
On what makes Joe Bachie and Khari Willis good captains…
Joe is a very confrontational person; I mean if you're doing something wrong, he'll get in your face and tell you you're doing it wrong, and Khari is very good at talking. He's a natural talker like you saw at Big Ten Media Days, he's a great speaker.
Senior Safety Khari Willis:
On how it feels to be named captain and what it means to him and wanting to be a leader…
I definitely wanted to be a leader, but I'll just say first and foremost it's just an honor. It's more than a dream come true. I think this is probably my best accomplishment so far being able to represent such a great group of guys, being able to represent my brothers. For them to have their trust in me to represent them in the right way, not only one but off the field, I think it's a tremendous honor and it's a blessing that I'm definitely not going to take for granted.
On what it means to be a leader…
I think to be a leader you just have to be able to see what the coach wants, you have to be able to do what he wants and then be able to bring other guys along. I think that there is a goal in mind and you have to be able to lead people to that goal or at least in the right direction and really be able to relate to people. I think that's something I've learned to do over my time being here and hopefully it's something I continue to do, and if not be able to excel on that.
On achieving one of his many goals…
Yeah, it's definitely something I thought, I at least wanted to be an Eagle, to be a part of our leadership group and I think things just kind of transpired from there. Coaches put me in positions or opportunities presenting themselves and then me being able to learn from previous leaders and then step up and then take ownership. I think that's been a part of it, but since the moment I came in here I always wanted to be a leader of this team.
On how his background growing up in Jackson and personality relates to his position as a captain…
I think that definitely contributes to who I am as an individual and then I think that relays to when I'm hanging out with my teammates or when we are out here working on the field. You are who you are after a while, you come in for a while but after a while who you are is going to surface so I think that my dad and family have instilled some qualities in me and them being able to surface.
On what Joe Bachie brings to this team…
I feel like his approach to the game, obviously his athleticism, he's a big body but he's very athletic. Sometimes I think his athleticism may be a little underrated and his play making ability. I think he puts himself in the right position like other linebackers here have done; he watches a lot of film. You know he's a leader, he's a voice for our defense for us.
On what makes Brian Lewerke good captain material…
Brian has leadership qualities, I mean he stands up, he speaks his mind. I feel like he's more the guy that he'll get out in front of the team, but he relates to everyone well. He goes to talk to the guy that maybe people haven't talked to or maybe a guy is going through something. He's really, really good at that and I feel like he's humble as well.
On his nickname of 'Captain' finally ringing true…
You feel kind of relieved because they've been calling you it so it's kind of like they're putting pressure on you like you're Captain, like 'Cap, Cap' here and there. I think it's just a tremendous honor and like you said they've been calling me it for a while and now that it's over it's like its relief, but you know there's more responsibility and I feel like I'm ready to take those challenges on with the other two guys I have.