News
MYLAN HICKS-1993-2016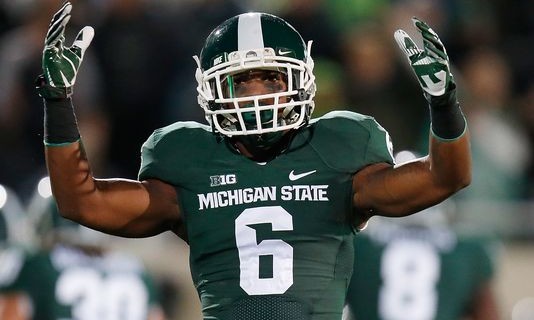 EAST LANSING, Mich. – Former Michigan State Spartan Mylan Hicks was tragically killed in a shooting early Sunday morning in Calgary, Alberta. Hicks, a native of Detroit, Michigan, was 23 (1993-2016).
"Our coaches, staff and players are deeply saddened by the tragic loss of Mylan Hicks," said Michigan State head football coachMark Dantonio. "Mylan went at everything with a great deal of excitement. He just enjoyed playing football and being around our program. He was a great student as well, graduating from Michigan State.
"I had many personal talks with him during his five years here. He went 100 miles an hour. No. 6 was a beautiful person and just lit a room up when he walked in. He established himself as a leader on our football team in his last year. This is just tragic and has rocked our Spartan football community.
"Our thoughts and prayers are with Mylan's family. We will miss him deeply."
Hicks was on the practice roster for the Calgary Stampeders of the Canadian Football League. He also played for the San Francisco 49ers during the 2015 preseason.
A three-year letterwinner from 2012-14, Hicks played cornerback, safety and linebacker for the Spartans. In 32 career games, he recorded 27 tackles. Hicks earned his bachelor's degree in psychology in August 2014.
Hicks tallied a career-high 19 tackles and four pass break-ups in nine games as a senior in 2014. In his final game as a Spartan, in which he started at Star linebacker, he registered a career-high four tackles in the 2015 Cotton Bowl Classic win over No. 4 Baylor. Although he suffered a broken arm in the Nebraska game in Week 5, Hicks only missed four games and returned to action at Maryland in Week 10. He was named the defensive recipient of MSU's Biggie Munn Award (most inspirational player) at the team banquet.
Hicks played in all 14 games, primarily on special teams, during MSU's Big Ten and Rose Bowl Championship season in 2013. He also lettered in 2012 after appearing in eight games.
Coming out of Renaissance High School in Detroit, Hicks was rated among the nation's top cornerbacks by Scout.com (No. 10), Scouts, Inc. (No. 24) and Rivals.com (No. 42). He participated in the 2010 Offense-Defense All-American Bowl in Myrtle Beach, South Carolina, and was named to SuperPrep's and PrepStar's All-Midwest Teams. Hicks was a two-year starter for Coach Antonio Watts at Renaissance High School and was listed among the state's top seniors by Scout.com (No. 3), Rivals.com (No. 8), The Detroit News (No. 18), Lansing State Journal (No. 18) and Detroit Free Press (No. 22).
"Mylan was an extremely hard worker," said assistant head coach/co-defensive coordinator Harlon Barnett. "He put everything into everything he did. I remember recruiting him and him coming up to camp as a sophomore in high school trying to earn a scholarship, and he wasn't that big back then. But we liked him, and he came back up the next year, got a little taller – we always liked who he was as far as his ability and his effort and toughness – and it got to the point where we ended up offering him, and he committed to being a Spartan, despite having multiple offers all over the country.
"He had a great personality. He was one of those players who lit up the room when he walked in, he wouldn't bring you down. His teammates loved him. He was a loyal person and a hard worker. With people like that, people are drawn to them.
"In the Nebraska game (when he broke his arm his senior year), he came back in the game. He was a tough, tough player. And he ended up coming back and playing for us later in the year. He even started for us in the bowl game against Baylor, and played well for us in that victory. Mylan was a guy that persevered. He loved the game of football and was still playing in Calgary.
"He had a great family. I feel for his mom (Renee Hill), because he and his mom had a great relationship. Our prayers go out to his family. God got a good one – he got a hard worker. Mylan's going to do everything right and he's going to be loyal and do it the right way up in heaven."
Article via http://www.msuspartans.com