News
Montae Nicholson Drafted by Washington in Fourth Round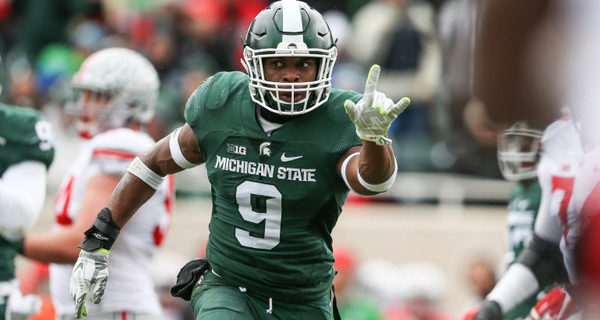 April 29, 2017
EAST LANSING, Mich. – Michigan State safety Montae Nicholson was selected by the Washington Redskins in the fourth round (No. 123 overall) of the 2017 National Football League Draft on Saturday, April 29.
Nicholson is the highest Spartan safety drafted since 2006 (Eric Smith, third round, No. 97 overall, New York Jets). He's also the seventh Spartan defensive back selected in the NFL Draft under Michigan State head coach Mark Dantonio (CB Jeremy Ware in 2009; CB Chris L. Rucker in 2011; S Trenton Robinson in 2012; CB Darqueze Dennard in 2014; CB Trae Waynes in 2015; CB/WR Tony Lippett in 2015).
A product of Monroeville, Pennsylvania, Nicholson finished second on the team with a career-high 86 tackles (7.8 avg.) as a junior in 2016, which ranked third among Big Ten defensive backs and 16th overall in the conference. He announced his decision to forgo his senior season and enter the 2017 NFL Draft on Dec. 29, 2016.
At the NFL Combine in March, Nicholson was clocked as the third-fastest safety with a time of 4.42 seconds in the 40-yard dash. In addition, Nicholson was also a top performer among safeties in the broad jump (fifth at 125 inches/10'5″) and vertical jump (tied for sixth at 35 inches).
Nicholson recorded 200 tackles (109 solo, 91 assists), four interceptions (70 return yards), four pass break-ups, 4.5 tackles for loss (8 yards), three fumble recoveries and one forced fumble in 38 career games, including 23 starts. He helped the Spartans to a win in the Cotton Bowl over No. 4 Baylor as a freshman and was a starter in 2015 on Michigan State's Big Ten Championship team that advanced to the College Football Playoff.
Nicholson led the team in tackles four times and had four double-digit tackle games last season, including a career-high 17 vs. BYU on Oct. 8, the most by a Spartan in a single game since 2005. He also had 10 stops vs. No. 11 Wisconsin and 13 apiece vs. Northwestern and No. 2 Ohio State. In addition, he had two pass break-ups vs. Furman, a fumble recovery vs. No. 18 Notre Dame and a 10-yard interception return vs. Rutgers.
The 6-2, 219-pound Nicholson, who started 10 games at safety, also led the team in production points throughout the entire season and earned honorable mention All-Big Ten accolades from the coaches and media. Named the 2016 recipient of the team's Most Outstanding Underclass Back Award, he reached the 200-career tackle milestone in the season finale at No. 8 Penn State.
As a sophomore in 2015, Nicholson ranked third on the team with 83 tackles, including 2.5 for losses, in 14 games of action as the Spartans won the Big Ten Championship and earned a spot in the College Football Playoff. He started 10 games at safety and led the team with 40 tackles over the last five games. He tied for the team lead with three interceptions (60 return yards) and ranked 10th with 58 production points during the regular season.
Nicholson posted seven solo stops vs. No. 2 Alabama in the College Football Playoff Semifinal and also tallied seven tackles vs. No. 4 Iowa in the Big Ten Championship Game. In the regular-season finale vs. Penn State, he tied his season high with nine tackles, including a 3-yard loss, and also forced a fumble and broke up a pass. He led the Spartan secondary with 18 production points and had a team-high eight stops in the win at No. 2 Ohio State.
In addition, Nicholson competed on the indoor track and field team in the spring of 2015, placing sixth in the long jump at the Big Ten Indoor Track and Field Championships with a leap of 7.23 meters (23-8 3/4).
Nicholson played in all 13 games as a true freshman in 2014, including three starts (Nebraska, Purdue, Indiana), and was named to the Big Ten All-Freshman Team by ESPN.com and BTN.com. One of four true freshmen to letter for the Spartans in 2014, he led all first-year players with 31 tackles (18 solo, 13 assists) and led the team with 10 tackles on special teams (team-best nine on kickoffs). He posted five stops in his second career start at Purdue and was named Spartan Special Teams Player of the Week. In his first career start, he recorded a season-high seven tackles in the victory over No. 19 Nebraska.