News
John "Thunder" Lewis Jr. – 1934-2016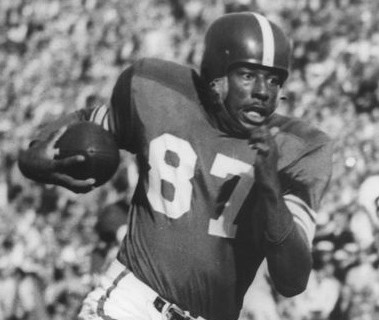 LANSING, MI: John "Thunder" Lewis, Jr. Age 81, passed away March 22, 2016. He was born May 24, 1934, in Fremont, OH, son of the late John Lewis, Sr. and Blondelle Jackson.
John proudly served in the U.S. Army. He was a graduate of MSU where he played football and caught the winning touchdown in the 1955-56 Rose Bowl game. He served on the board of directors of the Lansing Area Federal Credit Union for 24 years, as well as on the Lansing Fire Board for years. He worked for 44 years at GM in labor relations. John was inducted into the Sports Hall of Fame at Ross High School in Fremont, OH. He was a member of the Delta Lions Club, and was a longstanding member of Trinity A.M.E. Church in Lansing, where he served with the Sons of Allen.
He is survived by his children, Lorna (Lee) McKinstry, John Lewis III, Desiree Lewis, DaLaney Lewis, Derrick J. Lewis and Dante Lewis; 16 grandchildren; 25 great-grandchildren; special niece, Tracy Bulger; special sister-in-law, Moreen K. Jacobs; and a host of nieces, nephews and other extended family members. He was preceded in death by his wife, Gloria J. Lewis and his sister, Mary Almeda Bulger.
The funeral service will be held at 11:00 a.m. on Tuesday, March 29, 2016, at Trinity A.M.E. Church, 3500 W. Holmes Rd., Lansing. Interment will follow in Evergreen Cemetery in Lansing. His family will receive friends from 2-8 p.m. on Monday at the Estes-Leadley Greater Lansing Chapel.
Memorial contributions may be made to the Delta Lions Club or a charity of one's choice . Online condolences may be left for John's family at www.EstesLeadley.com.
Click here to view this obituary online: The News-Messenger: John Lews Jr Obituary