News
George Perles Dies at 86; Coach Revived Michigan State Football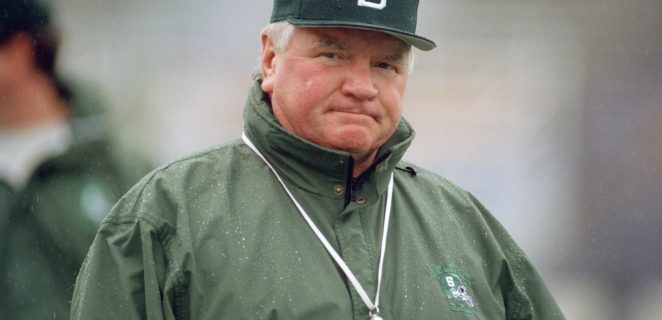 George Perles, who coached Michigan State to two Big Ten titles and a Rose Bowl victory in 1988 and was an assistant for the dominant Pittsburgh Steelers teams of the 1970s, died on Tuesday at his home in East Lansing, Mich. He was 85.
The university announced his death. He had been treated for Parkinson's disease since 2017.
Perles played football at Michigan State and was later an assistant coach before leaving to join the Steelers' coaching staff in 1972. He returned to Michigan State a decade later as head coach and later became athletic director and a member of the school's governing body.
Michigan State brought him back to revive its beleaguered football program, and he did just that, winning Big Ten titles in 1987 and 1990 and coaching the school in seven bowl games. He helped the Spartans beat Southern California, 20-16, on Jan. 1, 1988, for their first Rose Bowl win in more than three decades.
That game capped his best season with Michigan State, when the linebacker Percy Snow led the defense and the running back Lorenzo White and the receiver Andre Rison powered the offense as the Spartans captured sole possession of the 1987 Big Ten title with a record of 9-2-1. (They shared the title in 1990.) All three went on to play in the N.F.L.
The Steelers' head coach, Chuck Noll, hired Perles away from the Spartans to oversee Pittsburgh's vaunted "Steel Curtain" defensive line, led by the Hall of Fame tackle Joe Greene. Perles was later defensive coordinator and assistant head coach for the Steelers as they rolled to four N.F.L. championships in six years.
He returned to Michigan State, in East Lansing, in 1983. The Green Bay Packers tried to lure him back to the N.F.L. shortly after his Rose Bowl victory, and the New York Jets tried to do the same two years later. Both times Perles leveraged the opportunities to get what he wanted at Michigan State.
He signed a 10-year contract with the Spartans after passing on the chance to lead the Packers. On the eve of being introduced as the Jets' head coach in 1990, he was named the university's athletic director.
He was fired as coach late in the 1994 season, when Michigan State finished 5-6. After an N.C.A.A. investigation, the Spartans forfeited their games because of an academic scandal, but Perles himself was cleared.
"I would have taken the job with Green Bay (in 1988) or with the Jets (in 1990) if I had known what was coming," he wrote in a 1995 memoir, "George Perles: The Ride of a Lifetime."
He remained in Michigan for the rest of his life, helping to create the Motor City Bowl and serving on the Michigan State board of trustees from 2006 to 2018. His coaching record in 12 seasons at Michigan State was 73-62-4 overall and 58-37-2 in the Big Ten.
In 2018, a California woman accused Perles in a lawsuit of covering up a rape by Lawrence G. Nassar, the former doctor for Michigan State and the national gymnastics team. The woman said that Dr. Nassar had raped her and videotaped the assault while she was a member of the women's field hockey team and that Perles, who was head football coach and athletic director at the time, had covered it up when told about it.
Nassar was later convicted of multiple counts of rape and sexual abuse. But a state investigator's report found "no credible evidence" to support the claim against Perles, who was not listed as a defendant in the suit.
George Julius Perles was born on July 16, 1934, in Detroit and starred on the baseball and football teams at Western High School there, earning all-state honors in football. In 1954 he began a two-year stint in the Army before enrolling at Michigan State.
He was briefly a lineman for the Spartans until a knee injury ended his career. He then became a student assistant to the coach, Duffy Daugherty. He graduated in 1960.
After coaching high school ball and serving as an assistant at the University of Dayton, he returned to Michigan State as an assistant to Daugherty in 1967.
He is survived by his wife, Sally; their children, Kathy, Terry, John and Patrick; and six grandchildren.