News
Four Spartans Named to NFF Hampshire Honor Society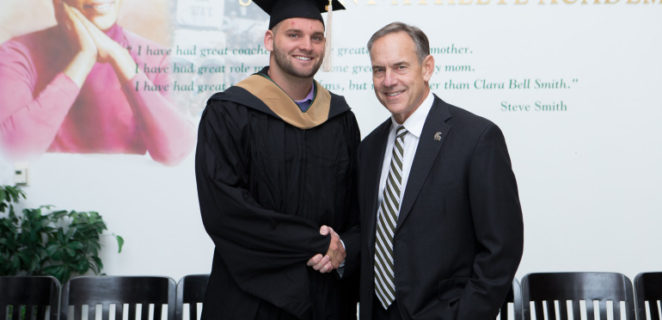 April 5, 2017
EAST LANSING, Mich. – Four Michigan State graduates – Matt Macksood, Benny McGowan, Tyler O'Connor and Josiah Price – have been named to the 2017 National Football Foundation (NFF) Hampshire Honor Society, the NFF and College Football Hall of Fame announced on Wednesday.
The NFF Hampshire Society is comprised of college football players from all divisions of play who each maintained a cumulative 3.2 GPA or better throughout their college career. A total of 1,089 players from 297 schools qualified for membership in the society's 11th year, both new single-year records in the history of the program.
Qualifications for membership in the NFF Hampshire Honor Society include:
• Being a starter or a significant contributor in one's last year of eligibility (or a senior who has declared for the NFL Draft) at an NCAA Football Bowl Subdivision, Football Championship Subdivision, Division II, Division III or an NAIA college or university;
• Achieving a 3.2 cumulative grade point average throughout entire course of undergraduate study; and
• Meeting all NCAA/NAIA-mandated progress towards degree requirements.
Macksood, who is currently pursuing a master's degree in human resources and labor relations, was a four-time Academic All-Big Ten selection. The four-year letterwinner graduated with a bachelor's degree in hospitality business last summer and played in 45 career games both as a wide receiver and on special teams.
A three-time Academic All-Big Ten honoree, McGowan is also pursuing a master's degree in criminal justice after he graduated with a bachelor's degree in the same field in May 2016. McGowan was a three-year letterwinner who played in 38 career games, including 17 starting assignments (seven at center, five at left guard, five at right guard).
O'Connor has earned both his undergraduate (supply chain management) and graduate (marketing research) degrees from Michigan State. The four-year letterwinner completed 188-of-316 passes (.595) for 2,344 yards, 20 touchdowns and 11 interceptions in 25 career games (23 at quarterback; two at punter), with 10 career starts. He was elected a team captain in 2016.
Price received his bachelor's degree in hospitality business in December 2016. The four-year letterwinner had 104 catches for 1,238 yards (11.9 avg.) and 21 touchdowns in 51 career games, while making 25 starts. He finished his career ranked first in school history among tight ends with 21 career TD receptions, which also ranks fourth among all players in school history. He also finished his career ranked third among Spartan tight ends in catches (104) and receiving yards (1,238).
Macksood, O'Connor and Price are members of a select club at Michigan State, as they are three of only 25 players in program history to earn Academic All-Big Ten honors four times.
Since the team's inception in 2007, 20 Spartans have been named to the NFF Hampshire Honor Society (Brian Bury, Brandon Fields and Drew Stanton in 2007; Blair White in 2010; Aaron Bates in 2011; Kirk Cousins, Joel Foreman and Keith Nichol in 2012; Ethan Ruhland in 2013; Max Bullough, Mark Scarpinato and Blake Treadwell in 2014; Travis Jackson and Mike Sadler in 2015; Jack Allen and Paul Lang in 2016; Macksood, McGowan, O'Connor and Price in 2017).